Washington state wheat farmers are protesting cuts to their safety net programs in a budget proposal released by President Donald Trump this week.
The Spokesman-Review review reports growers are concerned about Trump's proposal to reduce federal spending on crop insurance and other programs by $47 billion over the next decade.
The plan calls for cutting $22 billion of government subsidies for crop insurance, which would make it unaffordable for many of the state's farmers, according to Michelle Hennings, executive director of the Washington Association of Wheat Growers. It lowers the maximum income threshold for farmers to be eligible to buy crop insurance and benefit from government-sponsored conservation programs.
U.S. lawmakers are drafting a new farming bill to replace the one that expires in September. Sen. Pat Roberts, a Republican from Kansas, and GOP Rep. Mike Conaway from Texas, who head congressional agricultural committees, said in a joint statement that Trump's budget proposal won't prevent them from producing a bill that benefits farmers, ranchers, consumers and other stakeholders.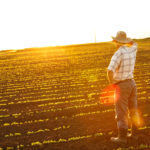 Farmers are also lobbying against the Trump Administration's decision to pull the U.S. out of a free-trade pact with countries that border the Pacific Ocean, also known as the Trans-Pacific Partnership, which they say will cause their industry to lose $3 billion annually over the next 10 years.
Trump's proposed budget calls for the restoration of $200 million in cost-sharing assistance to promote U.S. products abroad.
Copyright 2020 Associated Press. All rights reserved. This material may not be published, broadcast, rewritten or redistributed.
Was this article valuable?
Here are more articles you may enjoy.