Despite safety concerns, a recreational ax-throwing venue in Salt Lake City, Utah has been approved for a license to serve beer.
The state liquor commission approved Social Axe Throwing's request for a recreational beer license. The business asserted that it's "substantially similar" to other recreational businesses that serve beer.
Social Axe co-owner Mark Floyd said his company "is a recreational amenity almost identical to a bowling alley," except customers throw axes at a wooden target.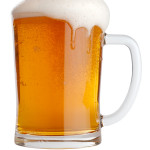 But that nature of the business does have some members of the state commission worried. The commission asked the company to return in six months and report on any safety issues or underage drinking problems.
"On one hand, we want to do what we can to allow people to engage in recreational activities" commissioner Thomas Jacobson said.
But Social Axe is the first Utah business of its kind to get a recreational beer license, making it "unknown territory," he said.
Floyd said employees will scan IDs at the door and minors will be required to wear a wristband. The activity is open to those 15 and older, but anyone under 18 must be accompanied by a parent. Customers also must wear closed-toed shoes.
Floyd, who co-owns the business with his brother, Brayden, and Steve Lister, opened their first shop in Ogden in 2017. The two locations are among four ax-throwing venues along the Wasatch Front, including Axe Arena in Murray and True North Axe in Lehi.
The Social Axe partners said they did not apply for a recreational beer license for their Ogden venue because it is located too close to a Mormon temple.
Copyright 2021 Associated Press. All rights reserved. This material may not be published, broadcast, rewritten or redistributed.
Topics Utah
Was this article valuable?
Here are more articles you may enjoy.