A Southern California commuter train struck and killed a woman who fell from a platform onto tracks.
Police Lt. Paul McLaughlin says the woman slipped and fell backward from the platform.
McLaughlin says a man jumped onto the tracks and tried to pull her to safety but had to jump out of the way. His leg was struck but he wasn't seriously injured.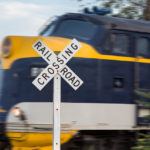 Metrolink spokesman Chris Gutierrez tells City News Service the woman was hit just after 6 p.m. Monday at a station in the Sylmar area of Los Angeles.
Earlier in south Orange County, one person was killed and another was injured when they were struck by a Metrolink train. The Orange County Register reports the accident occurred in Dana Point in an area off-limits to pedestrians.
Copyright 2021 Associated Press. All rights reserved. This material may not be published, broadcast, rewritten or redistributed.
Topics California
Was this article valuable?
Here are more articles you may enjoy.