Woodland Hills, Calif.-based Peter C. Foy & Associates Insurance Services LLC has completed the acquisition of four agencies, three in California and one in Nevada.
The acquisitions are Walnut Creek, Calif.-based R.L. Milsner Inc. Insurance Brokerage, Woodland Hills, Calif.-based Senex Insurance Services Inc., Redwood City, Calif.-based Stratton Agency and Reno Nev.-based Clark & Associates of Nevada Inc.
Terms of the deals were not announced.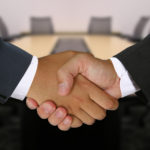 The firm also announced it has completed a recapitalization and financing with Madison Capital Funding, LLC. PCF last year partnered with BHMS Investments LP to accelerate the firm's growth through a series of retail agency acquisitions. BHMS is a private investment firm located in New York.
PCF is an insurance brokerage agency that provides an array of P/C, life and health, employee benefits and workers' compensation insurance products.
R.L. Milsner offers personal and business insurance, as well as life and health. Senex Insurance Services offers a variety of insurance services, including retirement plans. Stratton Agency offers insurance services, HR consulting, benefits and other specialties. Clark & Associates offers property/casualty, benefits and life and health.
Topics Mergers California Nevada
Was this article valuable?
Here are more articles you may enjoy.