Hawaii's Kilauea volcano erupted anew before dawn Thursday, spewing a plume of ash roughly 30,000 feet into the sky that began raining down on a nearby town.
The explosion at the summit came shortly after 4 a.m. following two weeks of volcanic activity that sent lava flows into neighborhoods and destroyed at least 26 homes. Scientists said the eruption was the most powerful in recent days, though it probably lasted only a few minutes.
Geologists have warned that the volcano could become even more violent, with increasing ash production and the potential that future blasts could hurl boulders from the summit.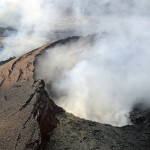 Residents as far away as Hilo, about 30 miles from Kilauea, were noticing the volcano's effects.
A National Weather Service ash advisory was in effect until noon. Several schools closed because of the risk of elevated levels of sulfur dioxide, a volcanic gas.
Scientists warned May 9 that a drop in the lava lake at the summit might create conditions for an explosion that could fling ash and refrigerator-sized boulders into the air. Geologists predicted such a blast would mostly release trapped steam from flash-heated groundwater. If it happens, communities a mile or two away could be showered by pea-size fragments or dusted with ash.
Kilauea, one of the world's most active volcanoes, has been erupting continuously since 1983. It's among the five volcanoes that form Hawaii's Big Island, and the only one that's actively erupting. An eruption in 1924 killed one person and sent rocks, ash and dust into the air for 17 days.
Related:
Copyright 2020 Associated Press. All rights reserved. This material may not be published, broadcast, rewritten or redistributed.
Was this article valuable?
Here are more articles you may enjoy.