A Southern California woman's recent injury by a baseball bat has renewed attention to fan safety at games.
The Sun of San Bernardino reports Saturday that 27-year-old Cloey Heckendorn was hit in the head during the Rancho Cucamonga Quakes' game on Mother's Day.
The Chino Hills resident was looking at her phone from her seat behind the third-base dugout when a bat from Los Angeles Dodgers' third baseman Justin Turner (who was in the minors recovering from an injury) slipped and flew toward her.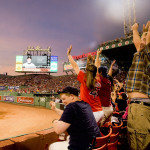 She was taken to the hospital where she got 10 staples.
Quakes general manager Grant Riddle says Heckendorn later got a bat signed by Turner.
Heckendorn says she plans to consult an attorney about suing.
Minor-league teams have not incorporated recent changes in netting that the majors have. A Minor League Baseball spokesman declined to comment.
Related:
Copyright 2020 Associated Press. All rights reserved. This material may not be published, broadcast, rewritten or redistributed.
Was this article valuable?
Here are more articles you may enjoy.