A small explosion on the summit of Kilauea volcano has triggered an earthquake but there are no reports of damage.
The U.S. Geological Survey says the magnitude 5.2 earthquake happened around 4:50 a.m. Saturday on the Big Island and felt as far as Hilo.
Scientists at the USGS Hawaiian Volcano Observatory say communities on the south part of the island may be impacted by falling ash.
They say the explosion was not unusual.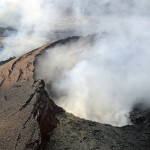 Hawaii County Civil Defense agency officials are allowing residents with official credentials to enter Leilani Estates. However, they should be ready to evacuate with little notice.
A large flow of lava from a fissure that has already destroyed hundreds of homes is continuing to enter the ocean at Kapoho Bay.
Residents should avoid the resulting laze plume.
Related:
Copyright 2021 Associated Press. All rights reserved. This material may not be published, broadcast, rewritten or redistributed.
Was this article valuable?
Here are more articles you may enjoy.