Officials in Honolulu, Hawaii are introducing two bills that would make regulations on traditional taxicab companies more in line with regulations on ridesharing companies.
Taxi companies such as Charley's, The Cab and EcoCab have voiced disappointment over upstart transportation companies not following the same rules that taxicabs have abided by for decades.
Mayor Kirk Caldwell said he submitted a bill to the Honolulu City Council last week that would allow cabbies to charge a fixed, upfront cost like Uber and Lyft drivers, or stick to the traditional method of using taxi meters that calculate fares based on mileage and time that's set by the city Customer Services director, the Honolulu Star-Advertiser reported .
The bill also requires disclosure of any total ride fare in advance so customers can accept or reject their rides based on that information.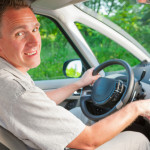 Caldwell's new bill comes after he vetoed a previous bill which would have put a cap on how much ride-hailing companies can charge during peak hours.
It's unknown whether councilmembers will try to override Caldwell's veto. The bill had passed through the city council in a 6-3 vote. Six votes are needed for an override.
Councilman Trevor Ozawa introduced a separate measure that would require all private transportation companies to provide more information to passengers.
Ozawa's bill requires that all private transportation companies that want to set a total fare disclose the amount to passengers prior to confirmation of the ride.
It eliminates taxicab certification numbers, but will continue to require that traditional taxi drivers provide passengers with a receipt, when requested. The receipt would show all fares and charges, the name of the driver, a telephone number for the company and telephone number at the city for dealing with complaints.
The bill does not address "surge pricing," the practice of charging more during peak hours.
Copyright 2021 Associated Press. All rights reserved. This material may not be published, broadcast, rewritten or redistributed.
Was this article valuable?
Here are more articles you may enjoy.