The families of two pilots who died in a 2016 helicopter crash in western Arizona have filed a wrongful death lawsuit against the California-based manufacturer of the aircraft.
The suit filed last Friday in Los Angeles County Superior Court alleges that defective rotor blades on the Robinson R66 helicopter contributed to the fatal crash.
The helicopter went down in hilly desert terrain near Wikieup, Arizona on the afternoon of June 23, 2016, on a flight from Prescott, Arizona, to Riverside, California, according to the National Transportation Safety Board.
An NTSB investigation concluded the helicopter experienced sudden high winds and turbulence from several large dust devils and the R66 broke up in flight, leaving a debris field 750 yards long and 150 yards wide.
The wreckage wasn't found until early the following day in Wikieup, located 124 miles northwest of Phoenix.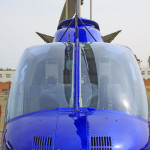 David Cormey, 55, of Prescott Valley, Arizona, and Timothy Shawn Brown, 52, from the Phoenix suburb of Glendale, were the only persons aboard the helicopter and were killed in the crash.
The two experienced pilots were on a positioning flight as part of their jobs with a helicopter flight school in Prescott.
According to the lawsuit, the helicopter's main rotor blades contacted the airframe "resulting in a sudden and immediate catastrophic in-flight breakup in the middle of the desert."
The suit seeks unspecified damages against the Robinson Helicopter Company of Torrance, California.
It alleges that Robinson helicopters, including the R66 model, "are especially susceptible to catastrophic mast bumping events due to, among other things, the design of the rotor head and main rotor blade system."
Kurt Robinson, president of the Robinson Helicopter Company, said Monday that he agreed with the findings of the NTSB report that turbulence caused the pilot to lose control of the aircraft but added that he had no immediate comment on the lawsuit.
Copyright 2021 Associated Press. All rights reserved. This material may not be published, broadcast, rewritten or redistributed.
Topics Lawsuits California Aviation Arizona
Was this article valuable?
Here are more articles you may enjoy.