The family of the Washington State University football player who died of suicide in January said the 21-year-old quarterback had extensive brain damage that's been linked to concussions from playing the sport.
Tyler Hilinski was found dead in his apartment with a gunshot wound and a suicide note on Jan. 16.
Mark and Kym Hilinski told NBC's "Today" show that the Mayo Clinic did an autopsy of their son's brain.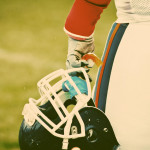 The results indicated that he had the brain of a 65-year-old, with signs of extensive brain damage known as chronic traumatic encephalopathy, or CTE, which has been found in hundreds of former NFL players.
The mother says she doesn't think football killed her son but that she believes he probably got CTE from the sport.
Copyright 2021 Associated Press. All rights reserved. This material may not be published, broadcast, rewritten or redistributed.
Topics Washington Education Universities
Was this article valuable?
Here are more articles you may enjoy.