Trees and power lines are knocked over and small planes are flipped upside down after a severe storm, which including tornado sightings and hail, moved across the plains of northeastern Colorado.
A team from the National Weather Service is in Morgan and Washington counties this week to examine the damage caused by Sunday's storms.
Meteorologist David Barjenbruch says the agency is pretty confident there were tornadoes but the weather service team needs to assess which damage may have been caused by tornadoes and which may have been caused by strong winds.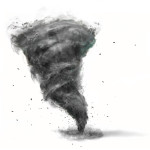 Besides damage to the planes at the Brush airport, Barjenbruch says there were also reports of trucks knocked over on Interstate 76 and damage to feedlot livestock outside Brush.
The storm originated in southeastern Wyoming and survived into northwest Texas.
Copyright 2020 Associated Press. All rights reserved. This material may not be published, broadcast, rewritten or redistributed.
Was this article valuable?
Here are more articles you may enjoy.