California utilities won't get a break from lawmakers who were weighing changes to state liability laws that expose the companies to billions in potential damages from last year's wildfires.
Lawmakers don't have enough time to study and pass a bill shielding the utilities from financial liabilities from the fires before the state's legislative session ends Aug. 31, said Paul Payne, a spokesman for state Senator Bill Dodd, D-Napa.
PG&E Corp., the state's biggest utility owner, has been lobbying lawmakers to change a rule known as "inverse condemnation," which says property owners can collect compensation from utilities linked to fires even if the companies weren't negligent. Governor Jerry Brown has been sympathetic, proposing a bill that would require the courts to consider whether a utility acted "reasonably" when deciding whether to impose damages. PG&E could face as much as $17 billion in liabilities for the 2017 fires, according to JPMorgan Chase & Co.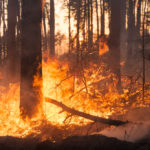 Lawmakers this week shifted their focus from utility liability to wildfire prevention, according to a statement from Dodd's office. The Associated Press earlier reported that lawmakers had abandoned the proposal.
Dodd was co-chair of a legislative committee that was weighing Brown's proposal as part of an effort to produce legislation addressing the growing threat of wildfires, which officials say are getting worse due to climate change.
To address the financial threat to PG&E, the committee was considering letting the utility issue bonds backed by customer bills to cover damages from wildfires last year that destroyed thousands of homes in Northern California wine country. Such a proposal was expected to be received positively by investors, according to Julien Dumoulin-Smith, an analyst for Bank of America Merrill Lynch.
Related:
Copyright 2021 Bloomberg.
Was this article valuable?
Here are more articles you may enjoy.