A jury has awarded a New Mexico couple $74 million in a medical malpractice lawsuit involving a son left with brain damage.
KOB-TV in Albuquerque reported the jury this month ruled that a women's health clinic in Hobbs, New Mexico, didn't properly follow Lorenza Botello's pregnancy and a doctor injured her baby during delivery.
According to the lawsuit, medical professionals from the Franklin, Tennessee-based Community Health Systems failed to monitor the baby's growth, who weighed 111/2 pounds at birth.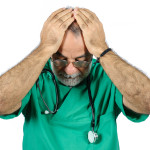 Botello's attorney, Kent Buckingham says a doctor forced a vaginal birth despite the mother's plea for a cesarean section in 2012.
Buckingham says, the baby, Jonathon, suffered nerve and brain damage.
An attorney for Community Health Systems declined to comment.
Copyright 2018 Associated Press. All rights reserved. This material may not be published, broadcast, rewritten or redistributed.
Was this article valuable?
Here are more articles you may enjoy.