A Portland, Ore. woman who says debt collectors keep showing up at her door looking for someone she swears she doesn't know has filed a $400,000 lawsuit to make them stop.
The Oregonian/OregonLive reported Caitlin Kelly is suing a Portland furniture store called Aaron's, saying a demand letter and slips of paper left at her home indicate the store is trying to collect on a debt owed by Steven.
The lawsuit says men from the store have banged on her door nearly a dozen times this year sometimes in the early morning hours, waking her young children.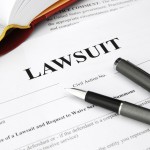 Kelly says she has called store management to resolve the issue but she says they don't believe that he doesn't live there.
Kelly is suing only the local franchise, NW Freedom Corp and not the national chain to which it has ties. A representative for the franchise declined to comment.
Copyright 2019 Associated Press. All rights reserved. This material may not be published, broadcast, rewritten or redistributed.
Was this article valuable?
Here are more articles you may enjoy.