Roughly one-in-10 insurers have exposures to PG&E bonds, which could potentially used to payout on losses from the California wildfires, according to ratings agency A.M. Best.
It was recently determined that a second power line of PG&E Corp. failed the morning Northern California's Camp Fire, the deadliest and most destructive in state history, broke out.
The Camp Fire has burned 151,373 acres and is 70 percent contained. It has destroyed 12,637 residences, 483 commercial structures and 3,718 other buildings, according to CalFire. The fire has also reportedly killed 79 people.
There's an ongoing conversation over whether utilities should continue to be held liable for damages caused by wildfires linked to their power lines even if the companies did nothing wrong. PG&E has filed two incident reports since the fire began and has seen about half its market value, roughly $12 billion, vanish in little more than a week, according to A.M. Best.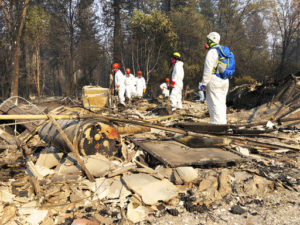 A bill that would help PG&E Corp. absorb liabilities from the wildfires is being drafted at the request of Assemblyman Chris Holden for possible introduction as early as Dec. 3.
California's Public Utilities Commission President Michael Picker said last week it's not good policy to allow the company to go broke.
However, "a PG&E bankruptcy could come down to a fight between bondholders and property owners whose homes were destroyed by wildfires," A.M. Best stated in its briefing.
The utility company has $18 billion of unsecured bonds, so in the event of a bankruptcy, the payment priority of these bonds would be equal to that of the roughly $30 billion in potential liabilities that analysts have estimated from the 2017 and 2018 wildfires, according to A.M. Best.
"What's more, rules governing the existing bond issues state that the unsecured notes would also become secured if PG&E were to take on at least $5 billion of new debt secured by its assets—which could result in current bondholders wanting the company to issue more secured debt if doing so could put them ahead of wildfire claims," A.M. Best stated.
The insurance industry holds between roughly one-fifth to one-quarter of the company's debt, which amounts to $4.1 billion, according to A.M. Best.
Roughly one-in-10 insurers have exposure to PG&E bonds, with the life/annuity segment holding 88 percent of the entire industry's holdings and the property/casualty segment holding 10 percent.
Insured losses from the Camp Fire and the Woolsey Fires in Southern California will be between $9 billion and $13 billion, according to the latest estimates from catastrophe modeler RMS.
RMS' estimates show $7.5 billion to $10 billion for the Camp Fire alone.
PG&E Corp.'s $1.4 billion in wildfire insurance may not be enough to cover all its potential liabilities, which could reach $15 billion, according to Citigroup Inc.
Effect on Home Insurance
Jason Hopper, associate director with A.M. Best, said losses from the ongoing wildfires in California will put pressure on homeowners insurers.
Hopper said while insurance companies would like to secure rate increases commensurate with the growing risk, they may face uncertainty from regulators and ultimately may choose to reduce their risk tolerance.
"Regulators do try to take a balance between consumers and insurers," Hopper said. "We believe there are insurance companies that are choosing to limit their risk to these types of high-risk areas, which at the same time is creating opportunities for non-admitted insurers such as Lloyd's."
David Blades, a senior research analyst with A.M. Best, added: "Given the greater propensity of wildfire outbreaks, there's no question there's going to be a definite need for reconsideration in terms of underwriting and pricing strategies when you're looking at climate change and population trends that have changed the paradigm."
Related:
Was this article valuable?
Here are more articles you may enjoy.