Insured losses from the Camp and Woolsey wildfires in California will be between $9 billion and $13 billion, according to the latest estimates from catastrophe modeler RMS.
RMS' latest estimates released on Monday show $7.5 billion to $10 billion for the Camp Fire and $1.5 billion to $3 billion for the Woolsey Fire.
The estimates reflect property and auto damage, including burn and smoke damage, business interruption, additional living expenses and contents loss.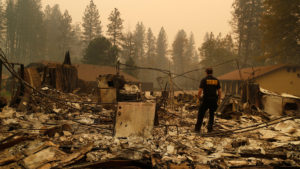 The Camp Fire, now considered the most destructive wildfire in state history, has burned 151,000, and is 66 percent contained. It has burned 11,713 residences and 472 commercial structures, according to CalFire. There have been a reported 77 deaths as a result of the fire.
The Woolsey Fire has burned 96,949 acres and is 94 percent contained. It has destroyed 1,500 structures, according to CalFire.
"Wildfire is now a major catastrophe risk that must be rigorously managed with the best data and model science," said Mohsen Rahnama, chief risk modeling officer for RMS. "With increasing exposure due to properties near wildland areas and ongoing climate variability, insurers, policymakers, and homeowners must adapt to the prospect of more frequent and severe wildfires."
S&P Global Ratings said it expects both the primary insurers and reinsurers to be able to absorb losses from the California wildfires, limiting them to an earnings event.
However, the mounting bills from more frequents large wildfires in the state against a regulatory backdrop that limits the ability of carriers to raise rates "may lead to some soul searching" as they consider how much coverage to write in California, S&P said.
Primary insurers AIG, Chubb, and Farmers have the largest exposures from the fires, according to S&P. S&P said AIG and Chubb are likely to experience greater losses from the Southern California wildfires given the high-net-worth nature of the markets hit.
Related:
Was this article valuable?
Here are more articles you may enjoy.