A magnitude-4.0 earthquake rattled the rural west side of the San Joaquin Valley early, the U.S. Geological Survey confirmed.
No damages were reported.
The USGS reported the temblor occurred at 5:07 a.m. on Tuesday and was centered 6 miles northwest of the pistachio-growing community of Avenal.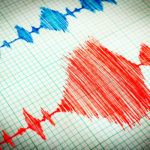 The quake occurred at a depth of 6.2 miles.
Copyright 2020 Associated Press. All rights reserved. This material may not be published, broadcast, rewritten or redistributed.
Was this article valuable?
Here are more articles you may enjoy.