California's top utilities regulator on Thursday ordered the embattled power utility Pacific Gas and Electric Co. to implement safety recommendations the agency's staff outlined in an independent third-party report.
The move by the California Public Utilities Commission comes as it investigates the cause of the Camp Fire that destroyed the town of Paradise, in the state's deadliest-ever wildfire.
The recommendations, which were made following an investigation on the utility after the 2010 San Bruno pipeline explosion, include development of a comprehensive safety strategy, resource requirements and budgets.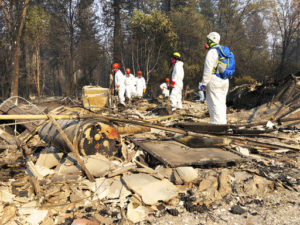 "Although there are a few bright spots, PG&E appears not to have a clear vision for safety programs and instead pursues many programs without thought to how they fit together, despite eight years passing since the explosion in San Bruno," CPUC President Michael Picker said in a statement.
PG&E earlier this month warned it could face "significant liability" in excess of its insurance coverage if its equipment caused the latest blaze in California, sending its shares plunging.
The company's shares and bonds recovered after Picker told Reuters that utilities must be able to borrow money cheaply in order to properly serve ratepayers.
"To operate the grid in a safe manner, PG&E must be able to sign contracts and raise capital. This is a bit like remodeling an airplane in mid-flight," Picker said on Thursday.
PG&E has borrowed more than $3 billion under credit lines available to it and its Pacific Gas and Electric Co power utility, the maximum available, Reuters reported earlier this month.
The company's shares were down 2.5 percent at $26.76 on Thursday.
(Reporting by Ajmera and Laharee Chatterjee in Bengaluru; Editing by Sriraj Kalluvila)
Related:
Was this article valuable?
Here are more articles you may enjoy.