A magnitude 4.5 earthquake struck in the Pacific Ocean off the coast of Oregon. The U.S. Geological Survey confirmed.
The agency reported the earthquake hit a spot 286.5 miles west of Yachats at 7:40 p.m. on Saturday. Yachats is a town of about 750 people.
The earthquake had a depth of 6 miles.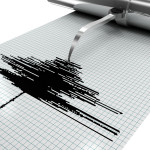 There were no reports of damage.
Copyright 2021 Associated Press. All rights reserved. This material may not be published, broadcast, rewritten or redistributed.
Topics Oregon
Was this article valuable?
Here are more articles you may enjoy.