Crest Insurance Group of Scottsdale, Ariz., has named Frank Benedetto a senior vice president of the employee benefits division.
Benedetto has more than 30 years of experience.
He held numerous positions in the healthcare industry, including as executive director of Cigna Healthcare (Tucson), Aetna's Arizona market head of sales, and Banner Aetna business development director.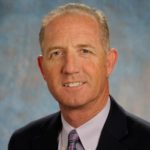 CREST has offices in throughout Arizona as well as in California and Colorado. The brokerage firm writes insurance business throughout the Southwest and continental U.S.
Was this article valuable?
Here are more articles you may enjoy.