Sierra Specialty
Sierra Specialty, program specialist, managing general agency and wholesale insurance brokerage, has appointed Vicky Dith as a broker and underwriter specializing in construction insurance. Dith is located in Clovis, Calif.
Dith will be working with Sierra Specialty's commercial lines team to expand the company's construction division. She has more than 20 years of commercial lines experience.
Her areas of expertise include construction for all lines — casualty, excess, and professional — as well as high-hazard property insurance, garage and agricultural risks.
Most recently, Dith held the position of production underwriter for Burns & Wilcox, focused on general liability, property, professional liability, umbrella, auto, property, inland marine and cyber liability.
Lockton
Lockton Companies has named Patrick McHugh as vice president in its Seattle, Wash., practice.
Prior to joining Lockton, McHugh was vice president with Parker, Smith & Feek's hospitality and real estate practices, where he developed insurance, risk management and employee benefits programs for hotel and restaurant groups, as well as real estate investors, managers and developers.
His specialty areas include traditional insurance and alternative risk placements, owner-controlled insurance programs, builders risk, and association-sponsored affinity programs.
CWCI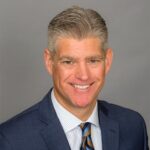 Kris Mathis, senior vice president of claims for CopperPoint Insurance Cos., a Western-based super regional commercial insurance company, has been re-elected to the California Workers' Compensation Institute Board of Directors and Executive Committee for 2021.
The CWCI is a private, nonprofit association working to improve California workers' comp through research, information, education and representation.
CWCI members include 26 insurer groups, as well as 33 of the largest public and private self-insured employers in the state.
Topics California Lockton
Was this article valuable?
Here are more articles you may enjoy.