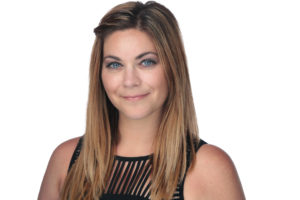 Atlanta, GA, June 8, 2018 — Breckenridge Insurance Services is pleased to announce Ashley Holtz has joined the wholesale brokerage team as assistant vice president and broker. Holtz brings additional cyber coverage expertise to the organization as a significant risk to all commercial enterprises served by the organization. In addition to cyber, Holtz has professional liability and excess property and casualty experience to further benefit clients and support their insureds' needs across diverse industries.
"Ashley has the in-depth knowledge and attention to detail that agents appreciate when considering the complex and changing cyber risk management landscape. Coupled with her collaborative nature and reputation for service excellence, she fits right in," stated Shawn Hall, senior vice president of business development for Breckenridge Insurance Services.
Holtz recently was the cyber broker for Highland Risk Services, Inc. having focused in this area exclusively since early 2015. She worked her way up quickly having started in a general account support role in 2013 providing team members and clients necessary data and processing new accounts. Her service mindset began well before her insurance career having been an accomplished hairstylist for six years.
"Solving an agent's need for smart cyber coverage is something I'm passionate about having helped hundreds of businesses protect their reputational and financial risks. Every week something new is happening in this space and if your broker is not at the forefront of this change, we are and have many markets to find the best fit, so call me," stated Holtz.
Holtz can be reached at aholtz@breckis.com or 773-683-1003.
About Breckenridge Insurance Services:
Breckenridge Insurance Services is a national wholesale insurance brokerage/MGA delivering top-rated, competitive commercial coverage solutions. With more than three decades of providing responsive counsel and risk management insights, Breckenridge has become a recognized leader and trusted partner to valued agents and coveted carrier partners internationally. With significant in-house contract binding authority and expert, award-winning brokers spanning nearly all property and casualty risk types from workers' compensation to professional liability, we offer collaborative, comprehensive solutions. As part of Breckenridge Insurance Group, the team has access to additional resources and expertise to help clients go further. For more information, please visit www.breckis.com
About Breckenridge Insurance Group:
Breckenridge Insurance Group, headquartered in Atlanta, Ga., is an international specialty wholesale insurance broker, program manager, managing general agent (MGA) and insurance services provider. The company offers access to diverse range of commercial insurance and financial services products to businesses and professional services firms in a variety of industries. The company serves independent insurance agents, brokers, and financial institutions throughout North America by way of Blue River Underwriters, OSC, Breckenridge Insurance Services, Breckenridge Elevation Authorities contract binding group and InSpecialty innovative insurance solutions. For more information, please visit www.breckgrp.com or call 855.728.8822. CA Insurance License #0G13592
###
Media Contact
Caren Henry
chenry@breckgrp.com
267.961.8252

Was this article valuable?
Here are more articles you may enjoy.