IRVING, Texas, January 14, 2022 — Breckenridge Insurance announces the promotion of Jamey Schoenhard to vice president, underwriter of the specialty property program team. Schoenhard has twelve years of experience in underwriting and joined Breckenridge more than two years ago as an underwriter.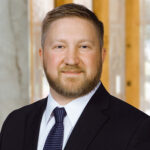 As part of the growing specialty property program team, Schoenhard focuses on facilitating competitive coverage solutions for diverse property risks including vacant, residential real estate investor portfolios and commercial properties nationally by way of access to top-rated carrier partners. He has extensive experience in handling business inclusive of all risk, wind, flood, earthquake and difference in conditions with some schedules exceeding $1 billion.
"Jamey has an unwavering commitment to our clients and their insureds. He is a diligent underwriter with a keen sense of current property risk management practices which he willingly shares to help his partners earn business," stated Michael Marks, senior vice president and Breckenridge Insurance specialty property program director.
Schoenhard is located in the Richmond, Virginia area and can be reached at jschoenhard@breckis.com or 804.508.6380.
About Breckenridge Insurance:
BRECKENRIDGE INSURANCE is a wholesale brokerage, binding and programs insurance provider delivering competitive commercial coverage solutions to independent agents and brokers nationally. With problem-solving specialists spanning a variety of industries and insurance lines, the team provides expertise and access to top-rated markets to help clients win business with underwriting integrity. As part of Breckenridge Group, access to additional specialty programs and a commitment to significant compliance and technology investments support the company's growth. For more information, please visit WWW.BRECKIS.COM or call 855.728.8822. CA Insurance License #0G13592
About Breckenridge Group:
Headquartered in Atlanta, Breckenridge Group is the parent company of several best-in-class brands that provide insurance and risk management solutions and services to diverse audiences across three practice areas: insurance, financial and member services. For more than a decade, the company has built a reputation for strategic growth by empowering expert talent who achieve inspiring results. More than 350 employees work across its six divisions including Breckenridge Insurance, Breckenridge General Agency, OSC Insurance Services, Southeastern Underwriters, Target Markets Program Administrators Association and Insurance Networks Alliance. For more information, please visit WWW.BRECKGRP.COM
###
Topics Excess Surplus Underwriting Property
Was this article valuable?
Here are more articles you may enjoy.