Liberty Mutual, Safeco
Boston-based Liberty Mutual Group finalized its acquisition of Seattle, Washington-based Safeco Corp. on Sept. 22 after entering the agreement in April.
While improving its scale and geographic reach, the transaction strengthens Liberty's standing to fifth largest property and casualty insurer in the U.S., with more than $32 billion in direct written premium based on 2007 results for both companies.
"Our employees are heartened and upbeat that we've been able to complete the merger in these difficult times," said Gary Gregg, president of Liberty Mutual Agency Markets.. "While there may be turmoil ahead, we are thinking long term."
On April 23 the two companies entered into a definitive agreement where Liberty Mutual would acquire all outstanding shares of Safeco common stock for $68.25 per share. The companies' boards of directors, Safeco's shareholders, and the departments of insurance in California, Illinois, Indiana, Missouri, Oregon, Texas and Washington had previously approved the transaction.
Safeco joins Liberty Mutual's Agency Markets business unit, which now ranks third in personal lines and fifth in commercial lines in the independent agent distribution channel. The combined surety operation becomes the second largest in the country.
"This is a great opportunity to adopt the Safeco brand for personal lines," Gregg said. "It's a chance to move to a great technology platform with excellent quoting and claims capabilities."
Liberty Mutual's Agency Markets business unit consists of national and regional property and casualty, and specialty insurance companies that distribute personal, commercial, and surety products and services through independent agents and brokers.
"Our focus and culture is in our partnership with agents and we'll continue to focus on our network of independent agents," Gregg said. "If the agents are not successful, we're not successful. That's been our hallmark."
Liberty's new personal lines organization will operate nationally under the Safeco brand. Based on 2007 results, the combined operations have $4.9 billion in direct written premium, with $3.6 billion from Safeco and $1.3 billion from Agency Markets' eight regional companies.
Liberty appointed Michael Hughes as executive vice president, Agency Markets, and president, Safeco Insurance. Hughes was previously executive vice president, Insurance Operations for Safeco. Paula R. Reynolds, formerly chairman, president and chief executive officer of Safeco, will be leaving the organization after a short transition period.
The new Safeco personal lines products will be sold in eight regions that align with the existing regional companies (America First Insurance, Central Region; Colorado Casualty, Mountain Region; Golden Eagle Insurance, California; Indiana Insurance, Midwest Region; Liberty Northwest, Northwest Region; Montgomery Insurance, Southeast Region; Ohio Casualty, Mid-Atlantic Region; and Peerless Insurance, Northeast Region).
The new commercial lines organization, under eight regional company brands, has $5.7 billion in direct written premium, combining $3.8 billion from the regional companies with $1.9 billion from Safeco based on 2007 results. Scott Goodby, executive vice president, Agency Markets and president, Regional Companies Group, will continue to lead the commercial lines organization.
The new surety operation has $773 million in combined direct written premium based on 2007 results. Timothy Mikolajewski has been appointed executive vice president, Agency Markets and president, Liberty Mutual Surety. Mr. Mikolajewski had been senior vice president, Safeco Surety.
Summit, Liberty's specialty workers' compensation company will continue to operate in its 10-state Southeastern footprint. Summit has $698 million in direct written premium based on 2007 results and continues to be led by Rick Hodges, president and chief executive officer.
IWIF
Maryland's IWIF Workers' Compensation Insurance recently formed a strategic business team to support its public entity and direct business, which includes approximately 7,400 accounts.
The 22-member strategic business team will service municipalities, counties, volunteer fire departments, housing authorities, various affiliated boards and associations, as well as direct accounts.
The 22-members have experience in underwriting, loss control, claims, premium audit, and marketing.
Heading up the team is Director Katherine Emanuel, who reports directly to Executive Vice President of Claims Tim Michels. Prior to accepting this new leadership position, Emanuel was a territorial marketing director with IWIF for six years. Her previous insurance experience includes positions with USF&G, Travelers, and PSA Insurance.
Established in 1914, IWIF is the leading provider of workers' compensation insurance in Maryland.
NYMagic
NYMAGIC, Inc. reported that its MMO Agencies unit has begun to write new business through 10 offices of surplus lines agents in Florida, New York, New Jersey and Kentucky, and that it expects to add offices of surplus lines agents in Massachusetts, West Virginia, Arizona and Oklahoma within the next several weeks.
NYMAGIC announced on April 16, 2008 that it had formed MMO Agencies to develop a book of general liability and property business through a nationwide network of select surplus lines agents. These agents, the company said, will act on behalf of NYMAGIC and have authority to bind policies, subject to underwriting criteria established and monitored by NYMAGIC.
NYMAGIC specializes in writing ocean marine, inland marine and non-marine liability insurance. The company maintains offices in New York, San Francisco and Chicago.
Glenn R. Yanoff, executive vice president of NYMAGIC and president of MMO Agencies, said his company is continuing to meet with other surplus lines agents and plans to extend its efforts to establish a nation-wide network.
Lexington, Berkshire
Surplus lines insurer Lexington Insurance Co. has arranged a contingent property reinsurance cover from Berkshire Hathaway's National Indemnity Co. for its real estate portfolio. The cover is also for policies having limits of $250 million or greater, policies with home/foreign exposure and the property sections of most of Lexington's homeowners book. The reinsurance provides coverage under the same policy terms and conditions as issued by Lexington. In the event of a covered loss, Berkshire stands behind Lexington, whose parent is American International Group (AIG).
"This enhances Lexington's value to its policyholders," said George Stratts, head of its Property Division.
Fletcher/Stein
Florida insurance executives John Fletcher and Rick Stein joined forces to continue the legacy of the Jacksonville firm, McNeill, Garrison & Fletcher.
Fletcher, prior president and majority shareholder of McNeill, Garrison & Fletcher, now owns 50 percent of the newly named company. Stein, who purchased the other half of the company, is bringing new employees and clients to the firm. Stein and Fletcher will serve as co-chairmen and managing partners of the new entity, which will be called Fletche/Stein.
Corrine Garrison, former and founding partner in the brokerage, will continue as a key employee, servicing clients and working with the new leadership.
Fletcher and Stein, whose families have a deep shared history in Jacksonville, worked together in the 1990s at insurance brokerage and benefits consulting firm Palmer & Cay.
Fletche/Stein will include 21 employees and offices in Jacksonville Beach, downtown Jacksonville and Pensacola. Its geographic reach will range from North Florida throughout the Southeast.
Mike Sullivan, who has more than 30 years of insurance industry experience, will serve as president of the company.
Willis, HRH
Shareholders at insurance and risk management company Hilb Rogal & Hobbs Co. approved a merger with Willis Group Holdings Ltd.
British insurance broker Willis Group Holdings announced in June that it would pay $1.67 billion in cash and stock for insurance and risk-management firm Hilb Rogal & Hobbs in a move to double its North America revenue.
The deal was expected to close Oct. 1.
Willis won approval to buy rival HRH from the Federal Trade Commission in July.
Willis, which has major offices in New York and London, gets 30 percent of its revenue from the United States. Hilb, the eighth largest U.S. insurance broker, has 140 offices throughout the United States and two in the United Kingdom.
From This Issue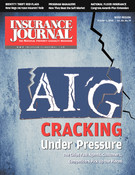 Salute to Program Managers; Cyberisk/Identity Theft; Risk Retention Group Directory