Liberty Mutual, Safeco, S&P
Boston-based Liberty Mutual Group is not pleased by Standard & Poor's announcement that it was lowering the company's financial strength rating from "A" to "A-" with a stable outlook, following Liberty's completion of its acquisition of Seattle-based Safeco.
Liberty Mutual called the action a "both a surprise and disservice to Liberty Mutual and our policyholders," and said S&P's rating action was in "contradiction of prior announcements."
The contradiction reference was to S&P's reaction to the April announcement of the merger, when it had placed Liberty's ratings on CreditWatch with negative implications. According to the bulletin, S&P said in that announcement that it "expected to affirm Liberty's ratings if its capitalization was not materially below what is required for the current rating and were satisfied with Liberty's integration efforts of Safeco."
In addition, Liberty pointed out that S&P had indicated on July 23, 2008, that it "expected to affirm Liberty's ratings 'if capital and earnings remain strong;' but could lower ratings, 'if pro forma capital and earnings were materially below the appropriate level for the rating.'"
Liberty strongly maintains that it "has adequate capital for the "A" rating and an enterprise risk management process that is rated "strong" (top 15 percent) based on S&P's detailed 'Level 2 Review.'" It also pointed out that S&P's "reference to a statutory combined ratio of 105 percent does not reflect international operations and, as a result, is not representative of worldwide underwriting results."
Willis, Hilb Rogal & Hobbs
Willis Group Holdings Ltd. completed its $2.1 billion acquisition of Hilb Rogal & Hobbs Co. (HRH), a large insurance and risk management intermediary. The move doubles Willis' revenues and geographic presence in North America and strengthens key practice areas, the company said.
Willis announced a definitive agreement to acquire HRH — the largest such transaction in the insurance broking industry in the past decade — on June 8, 2008.
The addition of HRH expands Willis' local presence from 70 to 210 locations in North America. Willis is now among the top three brokers in 15 of the 20 largest U.S. markets, up from only five of those markets previously, according to the company.
The acquisition also expands Willis' middle-market and large-account presence, more than doubles its North American revenues in employee benefits and triples its personal lines business. Real estate, health care, environmental, construction, complex property and executive risk are among the other key practice areas bolstered by the acquisition.
Following the completion of the acquisition, the retail operation of Willis North America will be known as Willis HRH.
From This Issue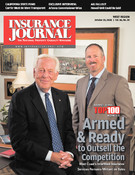 Surplus Lines: State of the Market; Agribusiness/Farm and Ranch; Top Performing P/C Insurers: 3Q