Access Holdco Management, IAT Insurance Group
Access Holdco Management has purchased the Massachusetts non-standard auto insurance book of business of Occidental Fire & Casualty Company of North Carolina from Occidental's parent, IAT Insurance Group (IAT).
Access Holdco Management is an Atlanta-headquartered insurance managing general agency focused on the non-standard auto market.
Occidental, a diversified property/casualty insurance company, is part of the IAT Insurance Group. IAT is transitioning its directly produced auto book to Access through the sale but will continue to act as the issuing carrier via its subsidiary, Occidental Insurance Co.
The Massachusetts book of business is approximately $35 million in annual premium and is distributed through a network of independent insurance producers. The purchase of the Occidental non-standard book furthers Access' efforts to diversify its offerings to their producers and insureds.
During the past 22 years, Access has managed books of business for numerous insurance companies. In December of 2015, Access received a growth equity investment from Altamont Capital Partners (ACP), a middle market-focused private equity firm with experience investing within the insurance industry.
Access will work alongside ACP to pursue opportunities to strengthen its book of business with targeted acquisitions.
Hub International Ltd., Pinnacle
Global insurance brokerage Hub International Ltd. (Hub) has acquired the assets of Pinnacle Financial Group and Pinnacle Insurance Agency, a Boston-based provider of life insurance solutions and services to family offices, affluent families, and middle-market and large market companies. Terms of the acquisition were not disclosed.
Michael Mingolelli Jr., Pinnacle's CEO, will join Hub New England and report to Charles Brophy, President and CEO of Hub New England.
"We are delighted to have Michael and his partners, David Hauptman, Ken Masters and Marc Mingolelli, of Pinnacle join Hub New England," Brophy said. "We are looking forward to expanding Pinnacle's successful platform throughout our region."
Headquartered in Chicago, Hub International provides property/casualty, life and health, employee benefits, investment and risk management products and services from offices located throughout North America. The company is committed to growing organically and through acquisitions to expand its geographic footprint and strengthen industry and product expertise.
The company also acquired the assets of Medley/Turrentine & Associates LLC, headquartered in Oklahoma City, Okla. Terms of the acquisition were not disclosed.
Medley/Turrentine & Associates, and principals Daniel Medley and Brent Turrentine, specialize in property/casualty insurance and employee benefits products.
Marsh & McLennan Agency, Benefits Resource Group
Marsh & McLennan Agency LLC (MMA), the middle-market agency subsidiary of Marsh, has acquired Benefits Resource Group (BRG), in Independence, Ohio. Terms of the transaction were not disclosed.
BRG, an employee benefits consulting firm, offers medical, life and disability insurance to midsize employers in Ohio. All BRG employees will join MMA's Midwest region and will continue to operate out of the firm's existing office under the leadership of CEO Charles Farro and President Ross Farro.
Acrisure, Genstar Capital
Acrisure LLC, a national insurance brokerage based in Grand Rapids, Mich., and private equity firm Genstar Capital have completed a management-led company buyout.
The $2.9 billion transaction was led by Greg Williams, Acrisure's chief executive officer and co-founder, and a consortium of minority investors. Williams co-founded the company with Rick Norris in 2005. He said Genstar will remain a remain a shareholder in the company.
Genstar acquired Acrisure in 2013 and has worked with Williams and the Acrisure management team to expand Acrisure's geographic footprint, and to broaden the size and scope of its insurance offerings.
Under Genstar's ownership, the company acquired 138 retail insurance brokerages and generated industry-leading organic growth. The company also invested in new data and analytic tools, and strengthened the management team. Annual revenues today exceed $670 million.
In addition to Acrisure, Genstar's current and former investments in the insurance industry include Insurity, Financial Horizons Group, Innovative Aftermarket Systems, Palomar Specialty and Confie Seguros.
Evercore acted as exclusive financial adviser to Acrisure with J.P. Morgan leading the financing of the transaction.
Was this article valuable?
Here are more articles you may enjoy.
From This Issue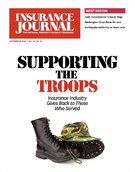 The Charity Issue; Photos of Your Organization Involved in Charity Work; Insurance Heroes