Markel, SureTec
Markel Corp. has agreed to acquire surety firm SureTec for approximately $250 million, inclusive of a three-year earn out.
SureTec is one of the largest privately owned surety companies in the U.S. SureTec's largest subsidiary, SureTec Insurance Co., is rated A (Excellent) by A.M. Best. In partnership with surety producers and independent agents, the company specializes in small to midsize contract bonds and commercial surety. SureTec operates in 50 states and has one international affiliate. The company has offices in Atlanta, Austin,, Texas, Dallas, Houston, San Antonio, San Diego, and Orange County, California.
Following the acquisition, SureTec will operate as a separate business unit, with John T. Knox Jr., SureTec's current chairman and chief executive officer, leading his team. The operating unit will become part of Markel's Specialty division and U.S. Insurance segment.
The transaction is expected to close in the first half of 2017.
TigerRisk Capital Markets & Advisory served as financial advisor and Sidley Austin LLP served as legal advisor to Markel. Locke Lord LLP served as legal advisor to SureTec.
Risk Strategies Company, University Health Plans
Risk Strategies Company has acquired University Health Plans (UHP). Terms of the deal were not announced.
UHP is a Quincy, Mass.-based brokerage firm specializing in student health insurance programs.
Built on a proprietary, web-based platform, UHP allows students of client institutions to navigate the school-sponsored student health insurance program and decide whether to waive or enroll in that program. Students also have the option to select from a range of ancillary coverages such as vision, dental and a variety of international health insurance plans for students traveling.
This acquisition serves to expand Risk Strategies' Higher Education Practice group.
Risk Strategies Company is a privately held national insurance brokerage and risk management firm. It has offices in more than 35 locations nationwide including Boston, New York, Chicago, Miami, Atlanta, Dallas, Nashville, Tenn., Los Angeles and San Francisco.
RSG Underwriting Managers, Interstate Insurance
RSG Underwriting Managers (RSGUM) has agreed to acquire the total assets and operations of Interstate Insurance Management Inc. (Interstate).
Interstate was represented in the transaction by Marsh, Berry & Company Inc. Terms of the agreement were not released.
Interstate is a transportation managing general agent founded in 1970 and led by President and CEO Jack Buchan.
Headquartered in Johnstown, Pa., it serves the greater Mid-Atlantic region and maintains underwriting authority with multiple transportation markets. Interstate also underwrites specialty property and casualty coverages through its regional retail distribution network.
The acquisition is expected to help Interstate expand its geographic presence and product set while giving its employees an opportunity for continued growth.
Ryan Specialty Group LLC is an international holding company consisting of a wholesale broker, R-T Specialty LLC, a series of underwriting managers, RSG Underwriting Managers LLC, and an insurance service provider, Ryan Direct Group Ltd. E.
RSGUM is the managing general underwriting division of RSG and consists of a series of specialty property and casualty managing general underwriters. It provides centralized governance, shared services and executive oversight to its specialty underwriting businesses.
Jardine Lloyd Thompson, Construction Risk Partners
Jardine Lloyd Thompson Group plc (JLT) has acquired a majority stake in Construction Risk Partners LLC (CRP).
JLT provides insurance, reinsurance and employee benefits-related advice, brokerage and associated services. CRP is a construction risk and surety specialty insurance broker.
The partnership means added scale, specialist construction capability and market presence for JLT Specialty USA, which aligns well with the group's strategy to build out its U.S. Specialty business.
Through this acquisition, CRP provides JLT with a platform to accelerate the expansion of its construction business, adding capability in the North American market to JLT's global specialty strength in construction.
CRP will have access to JLT's global resources to support its continued expansion across the U.S. and introduce JLT's wider specialist insurance products to its clients.
JLT and CRP work closely together serving JLT's global construction clients, as CRP's product specialties align with JLT's global construction capabilities.
All of CRP's management team members will remain with the business. This will be referred to as Construction Risk Partners, a JLT Group company.
Was this article valuable?
Here are more articles you may enjoy.
From This Issue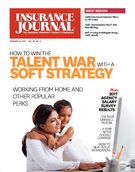 Agency Salary Survey Results; On the Water: Marinas & Boats; Agribusiness / Farm & Ranch