EPIC Insurance Brokers and Consultants, After Inc.
EPIC Insurance Brokers and Consultants, a retail property and casualty insurance brokerage and employee benefits consultant, has acquired After Inc., a product warranty analytics firm based in Norwalk, Conn.
The acquisition was made primarily to further strengthen and grow EPIC's subsidiary company, PowerGuard Specialty Insurance Services, a renewable energy program manager based in the U.S.
PowerGuard is a specialty renewable energy program manager specializing in the design and underwriting of insurance and risk management solutions for wind, solar and other alternative energy companies. It provides a 25-year, non-cancellable quality and performance guarantee solution to back up a manufacturer's own warranty terms. Guaranteeing warranty terms through the use of insurance provides certainty for manufacturers and customers, as well as long-term stability for the industry.
Founded in 2005 as a subsidiary of Fulcrum Analytics, After Inc. was formally created in 2015 to offer the industry warranty products and services. Clients include Canon, Electrolux, Ford, Generac, Jaguar Land Rover, Polaris and Seagate Technologies. Led by CEO Nathan Baldwin and chief technology officer David King, After Inc. has four core product offerings: warranty marketing, warranty analytics, warranty administration and the After Protection Plan, which includes data recovery services.
Kaplansky Insurance, Gath Insurance Agency
Kaplansky Insurance, an independent, locally owned insurance agency based in Needham, Mass., has acquired Gath Insurance Agency in Lowell, Mass.
Gath Insurance provides a range of insurance services to both personal and commercial clients.
The addition of Gath marks the 27th acquisition for Kaplansky and further strengthens the agency's presence in the Northeast, according to Kaplansky Insurance President and CEO Ely Kaplansky in a company press release.
Confie, Tremont Spirit Insurance Inc., Louis P. Ferrari Agency Inc.
Confie, a national provider of personal and commercial lines insurance, has completed two acquisitions in New York.
In the Bronx, N.Y., area, Confie acquired Tremont Spirit Insurance Inc. Tremont is a provider of non-standard auto insurance. This acquisition serves to expand Confie's presence in the Bronx to three locations.
Confie also acquired Louis P. Ferrari Agency Inc. in Rochester, N.Y. Louis P. Ferrari Agency is also a provider of non-standard auto insurance. That acquisition expands Confie's presence in Rochester to eight locations.
The two New York acquisitions come as Confie has recently completed five acquisitions in Missouri, Arizona and New York. In addition to its New York acquisitions, Confie acquired the Rodney D. Young Insurance group's Missouri retail operations from Loya Insurance Group, Valletta Insurance in Phoenix, Ariz., and EZ Insurance in Tucson, Ariz.
OceanPoint Insurance, Christopher & Regan
OceanPoint Insurance Agency has acquired Christopher & Regan Insurance of North Kingstown, R.I.
The acquisition comes as OceanPoint Insurance has been seeking to expand its coverage in North Kingstown and South County, President and CEO Doug Mayhew said in a company press release.
Agency principals Thomas Regan and Kathleen Christopher have accepted positions as vice president for OceanPoint and will continue to operate from their current office in North Kingstown following the transaction.
Headquartered in Middletown, R.I., OceanPoint provides a range of property and casualty insurance products in addition to an array of financial services. Along with BankNewport, OceanPoint is a subsidiary of the mutual holding company OceanPoint Financial Partners, MHC. Tracing its roots back to 1863, OceanPoint serves clients from three full-service offices located in Middletown, Barrington and Coventry, R.I.
Haines Family, Marias Technology, Buckeye Insurance
The Haines family has acquired Covington, Ohio-based insurance technology services provider, Marias Technology, from Buckeye State Mutual Insurance Co. The acquisition was effective June 30, 2017.
Members of the Haines family have held roles in senior management of Marias since its founding. The company said an expanding service portfolio and growing client base made the acquisition possible.
Christopher "Chris" Haines will now serve as the company's president and CEO. He formerly served as executive vice president and chief operating officer. R. Douglas Haines will serve as chairman.
Marias offers insurance technology services to property/casualty insurance companies and managing general agents. Services range from system testing and implementation, to software hosting and management services, as well as IT management on-demand.
Marias Technology is an Alliance Partner of AAIS, a vendor partner of MSO (the Mutual Service Office Inc.), a member of NAMIC, and a member of IASA. Its hosting environment is Service Organization Controls Report (SOC) 2 Type II compliant.
Buckeye Insurance is based in Piqua, Ohio.
Higginbotham, Painter & Johnson Financial, Jeannette Blanton Insurance
Fort Worth-based independent insurance broker, Higginbotham, and Painter & Johnson Financial have merged their insurance operations in Central Texas.
Painter & Johnson Financial is a broker of insurance, securities and employee benefits, based in Brownwood, Texas. It has individuals licensed to offer securities in Arkansas, California, Colorado, Oklahoma, Texas and Virginia.
The union of the two firms encompasses non-variable insurance products, expanding the customer service capabilities for insurance clients of Painter & Johnson Financial.
Painter & Johnson Financial will continue operating under the leadership of Bart Johnson as managing director at 201 West Adams in Brownwood.
In a separate deal, Higginbotham partnered with the Jeannette Blanton Insurance Agency Inc., a branch office of Dallas-based Independent Insurance Group Inc.
Jeannette Blanton Insurance is located in Ennis, Texas. The seven-person office is operated by Jeannette Blanton-Monnat and endorsed by the Association of Pool and Spa Professionals and the San Antonio Pipeliners Association.
Blanton-Monnat's existing staff will remain in Ennis, and Independent Insurance Group will continue operating in Dallas under the leadership of her two former remaining partners.
In addition to its Fort Worth headquarters, Higginbotham has 26 additional offices statewide with a workforce nearing 900 property/casualty insurance and employee benefit professionals.
InsuranceHub, CoverYou Insurance
Gwinnett, Ga.-based InsuranceHub has merged with CoverYou Insurance, a tech-driven insurance agency located in nearby Lawrenceville.
As a result of the merger, CoverYou's five employees have moved to InsuranceHub's new office in Lawrenceville, where it plans to add at least 50 new employees over the next three years. The combined CoverYou and InsuranceHub team will be able to provide a broader selection of carriers and services to their clients, according to a statement from the company.
CoverYou Insurance has provided personal and business insurance to customers in Georgia and the Southeast since 2001.
InsuranceHub is a technology-driven insurance agency that serves more than 15,000 clients across the United States. Originally launched as a small Nationwide Insurance agency in Metro Atlanta in 1985, the Lloyd Pro Group Agency was rebranded as InsuranceHub in 2015 and has offices in Lawrenceville, Douglasville and Atlanta.
IOA, Slaton, Major Accounts Group
Insurance Office of America (IOA) has purchased the Employee Benefits Practice, Major Accounts Group, and captive and alternative risk financing units of Slaton Risk Services, based in West Palm Beach, Fla. These assets, including all staff, will establish a new IOA branch office in West Palm Beach.
Slaton Risk Services EVP and Practice Leader Rick Neyman is managing partner of the location and is joined by Alexis Deluca, managing direct of employee benefits, and Holly Laurie, commercial lines manager. Also joining the team are risk managers Brian Lewis, Raul Mercader, and Michael Schwartz.
This new office adds approximately $3 million in annual revenue to IOA and will offer risk management, employee benefits consulting, and commercial insurance placement for midmarket and upper midmarket businesses.
IOA is a full-service insurance agency founded in 1988. It is headquartered in Longwood, Fla., and has more than 70 branch offices in the U.S., and an international office in London. IOA specializes in providing insurance for businesses in many industries.
DTRT, Insurance Authority
DTRT Insurance Group, Inc. (Do The Right Thing) has acquired Insurance Authority Inc., a retail property and casualty insurance brokerage firm based in Sunrise, Fla.
All DTRT & former Insurance Authority clients can now be served from either of DTRT's existing three regional locations in Homestead, Deerfield Beach and Coral Springs, or the new DTRT location in Sunrise where Insurance Authority previously operated.
DTRT is a statewide insurance firm, delivering property and casualty, life, personal risk and high net worth options to its clientele base. The company is headquartered in Coral Springs, with three additional partnership locations in Jupiter, Coconut Creek and Key Largo.
DTRT owners Matt Geller and Ed Rodriguez indicated that the company is actively seeking additional acquisitions in addition to seeking fitting partnership opportunities for experienced insurance professionals.
Was this article valuable?
Here are more articles you may enjoy.
From This Issue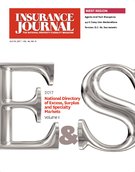 Excess, Surplus & Specialty Markets Directory, Volume II