Paragon Insurance Holdings, Edgewood Partners Insurance Center, Oak Hill Capital Partners
Avon, Conn.-based Paragon Insurance Holdings LLC announced that Edgewood Partners Insurance Center and Oak Hill Capital Partners have taken an equity stake in the firm.
Terms of the deal were not disclosed.
The investment from EPIC and Oak Hill will further propel Paragon's organic and mergers and acquisitions growth strategies and create greater opportunity for Paragon's agency, carrier and reinsurance trading partners, according to a statement announcing the deal.
Paragon is a national, multi-line specialty managing general agency with offices in San Francisco, Calif., and Seattle, Wash.
Arthur J. Gallagher & Co., Market Financial Group, Austin Consulting Group
Arthur J. Gallagher & Co. has acquired Crystal Lake, Ill.-based Market Financial Group Ltd. and its affiliate, Austin Consulting Group Inc.
Terms of the transaction were not disclosed.
Market Financial Group is a risk management and human resources consultant and broker providing property/casualty and human resources products and services for public entities, businesses and individuals primarily in Illinois.
Austin Consulting Group is an insurance consultant, finance and insurance advocate and claims advocate serving automobile dealerships throughout the United States.
Richard J. Waters Jr., W. Robert Messer and Kenneth Riemen will continue to operate from their Crystal Lake location under the direction of Patrick M. Gallagher, head of Gallagher's Midwest retail P/C brokerage operations, and John Neumaier, head of Gallagher's Great Lakes employee benefits operations.
Arthur J. Gallagher & Co. is an international insurance brokerage and risk management services firm, headquartered in Rolling Meadows, Illinois.
Hub International Limited, Susoreny & Associates, IPS Advisors
Global insurance brokerage Hub International Limited (Hub) has acquired the assets of Susoreny & Associates Inc.
Headquartered in Crown Point, Indiana, Susoreny & Associates is a fully accredited independent insurance agency. Focused on the unique needs of commercial and industrial fleet trucking firms, it provides a comprehensive offering of coverages to help protect owner-operators, fleet managers, and related freight transportation companies.
Joseph Susoreny, president of Susoreny & Associates, will join Hub Transportation and report to Karl Klus, COO of HUB Transportation.
In a separate deal, Hub also acquired the assets of IPS Advisors LLP and IPS RIA LLC (IPS Advisors). IPS is headquartered in Dallas, Texas, with offices in Houston, Austin and Fort Worth.
IPS Advisors is an independent life and health benefits brokerage and consulting firm. IPS Advisors' leadership team and staff will join Hub Texas. Randall R. Martell, co-managing partner of IPS Advisors, will lead the employee benefits practice for Hub Texas and Rod Sager, co-managing partner of IPS Advisors, will lead the life operation.
Terms of the acquisitions were not disclosed.
XPT Group, W.E. Love
XPT Group has partnered with W.E. Love & Associates (WEL), a 36-year old MGA with expertise in trucking risks.
Led by John H. Love and based in Burlington, N.C., WEL offers select retail agencies direct access to trucking insurance underwriters. WEL is currently operating in 30 states.
WEL was established in 1982 by W.E. "Dub" Love, Jr. John Love has worked with WEL, which continues to be a family run business, for 36 years. He has served as WEL's president since 1992 and will continue to do so in WEL's partnership with XPT.
The transaction closed on Jan. 25, 2018, and WEL will continue to operate under its established brand name.
XPT is a new specialty insurance distribution company formed by Tom Ruggieri, the former CEO of Swett & Crawford along with Jeff Heath, founder of Heath XS – now owned by Hallmark Insurance – and Mark Smith, who was an executive with RT Specialty, AmWINS and Stewart Smith.
Worley Claims Services, Audit Services Inc.
Worley Claims Services LLC, a provider of claims services in North America, acquired Audit Services Inc. (ASI), a claim estimate writing and review supplier for the property and auto insurance markets based in Atlanta. Financial terms of the transaction were not disclosed. StoneRidge Advisors, LLC advised Worley on the transaction.
Founded in 1998, ASI provides estimate writing and review services for its property and auto clients throughout the United States. Through its workforce of approximately 350 employees, the company specializes in desk estimate review, post repair audits, total loss estimates and call center capabilities.
Worley is based in Hammond, La., and provides property, auto and casualty claims adjustment services and staffing services to national and regional insurance companies, MGAs, TPAs and self-insured corporations, as well as clients in the federal/state government sector. Aquiline Capital Partners, a New York-based private equity firm, acquired a majority stake in Worley in October of 2014.
Ryan Specialty Group, Irwin Siegel Agency
Ryan Specialty Group LLC has completed its acquisition of the assets and operations of the Irwin Siegel Agency Inc. This transaction was previously announced on January 24, 2018.
Ryan Specialty Group is a Chicago, Ill.-headquartered international specialty insurance organization. ISA is a human and social service managing general underwriter and is based in Rock Hill, N.Y. Its specialties include developmental disability organizations, addiction treatment and behavioral/mental healthcare, youth programs and more.
ISA's operations are a part of RSG Underwriting Managers LLC, the managing general underwriting division of Ryan Specialty Group.
In 1985, ISA developed the first property and casualty insurance package specifically designed for non-profit organizations serving individuals with disabilities. The agency is led by Howard Siegel, who has been with the agency for nearly 40 years. He will continue as head of the Irwin Siegel Agency going forward.
NSM, TranSpec
NSM Insurance Group has acquired TranSpec, a specialized transportation insurance broker located in Nashville.
TranSpec specializes in designing and implementing insurance programs for trucking firms that utilize owner-operators. The program coverages include non-trucking liability, physical damage and occupational accident for owner-operators.
NSM has provided motor carriers and owner-operators insurance programs for more than 20 years, and the addition of TranSpec and its team will bring NSM growth opportunities in the business.
NSM Insurance Group focuses on development, implementation, marketing and underwriting industry-specific insurance programs with more than $500 million in annual premium.
NSM Insurance Group is aggressively seeking to acquire additional niche specific insurance businesses and program managers.
From This Issue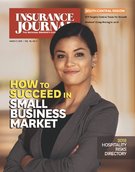 How to Succeed in Small Business Market; Directory: Hospitality Risks; Markets: Homeowners & Auto, Business Interruption