Hub International Ltd., Rubino Enterprises Inc., Leitao Insurance Agency
Hub International Ltd., a global insurance brokerage, has acquired the assets from Rubino Enterprises Inc., formerly known as TYG Insurance Agency Inc.
Based in Arlington, Mass., TYG Insurance provides commercial and personal insurance. The TYG Insurance business will join Hub New England following the acquisition. Maurice Rubino, principal of TYG Insurance, will report to Charles Brophy, CEO of Hub New England.
In a separate transaction, Hub acquired the assets of Leitao Insurance Agency Inc.
Located in Ludlow, Mass., Leitao is a multiline insurance brokerage firm providing personal and commercial lines products.
Terms of both acquisitions were not disclosed.
Headquartered in Chicago, Hub provides property and casualty, life and health, employee benefits, investment and risk management products and services from offices located throughout North America.
Alera Group, Benefit Planning Services, IMG Benefits Group
Alera Group, a national employee benefits, property and casualty, risk management and wealth management firm, has acquired Benefit Planning Services (BPS), located in Norwalk, Conn.
BPS has focused on providing benefits solutions since 1980. It offers a variety of services from group health insurance to executive benefits packages.
In a separate transaction, Alera Group announced it also acquired IMG Benefits Group LLC in Houston.
IMG Benefits Group creates tailored employee benefit programs. The firm has been built on five pillars: helping clients stay informed, providing client support, assisting in the implementation process, serving as an advocate and being a strategic benefits resource.
Terms of both transactions were not announced.
Based in Deerfield, Ill., Alera Group has continued to grow organically and through acquisitions since its formation in December 2016.
White Mountains, NSM
Bermuda-based insurance holding company White Mountains Insurance Group is acquiring a majority equity stake in NSM Insurance Group, a specialty insurance program administrator.
The transaction values NSM at approximately $388 million, according to the announcement. White Mountains said it intends to fund the acquisition through a combination of cash and new debt issued by NSM.
Pennsylvania-based NSM places in excess of $500 million in premiums annually through about 6,000 brokerage firms and 100 insurance carriers. Its specialty insurance niches include collector cars, nonprofit organizations, sports and wellness centers, specialty real estate and pet insurance.
In the past 12 years, NSM has completed more than 18 transactions and launched eight new programs.
The transaction is expected to close by the end of the second quarter of 2018.
NSM partnered with private equity firm ABRY Partners in 2012 to help fund its acquisition strategy. In 2015, American International Group Inc. acquired a controlling stake in NSM from ABRY and NSM management.
Last year, NSM, ABRY Partners and AIG entered into a joint partnership that allowed NSM to continue to seek new acquisitions. AIG contributed its controlling equity ownership of NSM into the joint venture, which was majority-owned by ABRY.
Merger & Acquisition Services acted as financial advisor to White Mountains, while Cravath, Swaine & Moore LLP provided legal advice. Latham & Watkins LLP acted as legal advisor to selling equity holders and NSM, and McDonald Hopkins LLC acted as legal advisor to NSM management.
Optisure Risk Partners, Masiello Insurance Agency
Optisure Risk Partners of Manchester, N.H., has merged with Masiello Insurance Agency of Keene, N.H.
Founded in 2015, Optisure is a provider of risk management and insurance, with more than $175 million in insurance premiums placed nationally by more than 70 employees and 10 locations in six states.
Optisure's regional agencies provide the resources and expertise of a national firm while operating locally with global capabilities. It works to address the full spectrum of risk management, employee benefits and property/casualty insurance needs of consumers and businesses.
Following this merger, Masiello Insurance will remain under the local management of its president, Donna Croteau, who will report directly to Optisure CEO Peter R. Milnes and work in collaboration with Optisure's leadership team. The Masiello Family, owners of the agency for more than 50 years, have elected to retain an ownership interest in the organization.
As part of this transaction, Masiello Real Estate, Better Homes and Gardens, continues its relationship with Masiello Insurance Agency and has entered into a long-term agreement with Optisure to continue to offer insurance services to its real estate clients.
Optisure will join Masiello Insurance in its membership with Satellite Agency Network Group Inc. (SAN). SAN, also a Masiello family owned business, is the largest network of insurance agencies in the Northeast and the founding member of SIAA Inc., the largest alliance of insurance agencies in the U.S.
Salem Five, Cape Ann Insurance
Salem Five has acquired Cape Ann Insurance, headquartered in Gloucester, Mass.
The acquisition will help Salem Five better serve the insurance needs of its customers in the region, Salem Five President and CEO Ping Yin Chai said in a company press release. Additionally, Salem Five Insurance will offer Cape Ann customers access to a wider range of products and carriers while maintaining the personalized service and relationships of an independent agency. Salem Five will also work to grow its commercial customer base on Cape Ann following the acquisition.
Founded in 1984 by Charles Nahatis and Robert Kiley, Cape Ann Insurance focuses primarily on personal insurance.
Salem Five Insurance offers customers a range of personal and commercial insurance options through access to all of the major regional and national carriers.
Salem Five Bancorp is the parent bank holding company of Salem Five, a mutual institution founded in 1855. Salem Five has 34 retail branches in Essex, Middlesex, Norfolk and Suffolk counties in Massachusetts, and in New Hampshire. Divisions include Salem Five Mortgage Company, Salem Five Financial and Salem Five Insurance Agency.
Stone Point Capital, Genex Services
Genex Services, a Wayne, Pa.-based provider of cost containment services to the workers' compensation, disability and auto industries, announced that funds managed by private equity firm Stone Point Capital LLC have acquired a majority interest in Genex from funds advised by Apax Partners, a global private equity firm. Financial terms of the transaction were not disclosed.
This acquisition renews a partnership that will support the continued enhancement and expansion of Genex's services, according to Genex President and CEO Peter Madeja.
SunTrust Robinson Humphrey served as the exclusive strategic and financial advisor to Genex.
Founded in 1978, Genex serves as a cost containment and disability management provider. It has more than 2,900 employees and 41 service locations throughout North America. The company serves underwriters in workers' compensation, automobile, disability insurance and third-party administrators.
Stone Point is a financial services-focused private equity firm based in Greenwich, Conn. The firm has raised and managed seven private equity funds — the Trident Funds — with aggregate committed capital of approximately $19 billion.
Stone Point targets investments in the global financial services industry, including investments in companies that provide outsourced services to financial institutions, banks and depository institutions, asset management firms, insurance and reinsurance companies, insurance distribution and other insurance-related businesses, specialty lending and other credit opportunities, mortgage services companies and employee benefits, and healthcare companies.
Apax Partners is a global private equity advisory firm. Apax Partners' Main Buyout Funds invest in companies across four global sectors of technology and telecommunications, services, healthcare and consumer. These funds provide long-term equity financing to build and strengthen companies.
Key Insurance & Benefits Services Inc., USI Insurance Services
KeyBank has entered into a definitive agreement to sell Key Insurance & Benefits Services Inc. to USI Insurance Services.
KeyBank acquired Key Insurance & Benefits Services Inc. as part of its 2016 merger with First Niagara Financial Group.
Key Insurance & Benefits Services Inc., with a division headquarters in Buffalo, N.Y., has 350 teammates working in eight offices in upstate New York, Pennsylvania and Connecticut.
USI is a privately held insurance brokerage headquartered in Valhalla, N.Y., with more than 6,000 associates in more than 150 offices.
The transaction is subject to regulatory approvals and other customary closing conditions. It is expected to close in the second quarter of 2018.
Morgan Stanley & Co. LLC is acting as financial advisor to KeyBank in connection with the transaction.
Was this article valuable?
From This Issue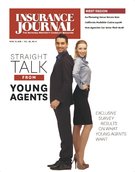 The Young Agents Issue – with Survey Results; Markets: Directors & Officers Liability