WebBank, National Partners
Salt Lake City-based digital lender WebBank has agreed to acquire Denver-based National Partners, an insurance premium finance company and subsidiary of MLF Financial Group. This is the first foray into premium finance for WebBank, a national issuer of loans in partnership with brand names like Dell, Prosper, PayPal, Fingerhut, LendingClub and Yamaha. WebBank is owned by Steel Partners Holding Corp. National Partners, founded in 2016, provides commercial premium finance services to agents and insureds.
Hub International, Altas Partners
Global insurance broker Hub International said it has received a "substantial minority investment" from funds managed by Altas Partners, an investment firm based in Toronto. Funds managed by Hellman & Friedman remain the largest investor in Hub and the company's management team continues to hold a significant equity position. The latest transaction implies a total enterprise value for Hub of more than $10 billion.
East
AssuredPartners, AOPA Insurance
AssuredPartners Inc. has added the aviation book of business formerly owned by AOPA Insurance Agency Inc. into the AP Aerospace operations of AssuredPartners. AOPA is a Frederick, Md.-based aerospace specific association for aircraft owners, renters, and certified flight instructor or aviation business operators. Following the acquisition, the association will continue to operate its agency with non-aviation related insurance products. This transaction marks the 34th acquisition for AssuredPartners in 2018.
Kaplansky Insurance, Burak Insurance
Kaplansky Insurance, an independent, Needham, Mass.-based agency, has acquired Burak Insurance, located in Canton, Mass. The addition of Burak marks Kaplansky Insurance's 31st overall acquisition and its fourth for 2018. The agency currently operates 12 locations throughout Massachusetts.
Hub International, Nolen Associates, Dadgar Insurance Agency
Global insurance broker Hub International has acquired the assets of Nolen Associates Inc. in Springfield, Penn., a medical malpractice insurance agency representing more than 1,000 healthcare professionals in Pennsylvania, New York, New Jersey, Delaware and Maryland. Following the acquisition, Nolen Associates President Ray Nolen and Vice Presidents Patrick Nolen and Michael Nolen will report to Shawn McLaughlin, national practice leader of Hub Healthcare and CSO for Hub New England.
In a separate transaction, Hub acquired the assets of Dadgar Insurance Agency Inc. in Woburn, Mass., an independent insurance agency that provides coverage to more than 500 restaurants and 1,500 landlords and apartment building owners throughout Massachusetts and New England. Following the transaction, Dadgar Insurance President Anowsh Dadgar will join Hub New England and will report to Charles Brophy, U.S. East regional president of Hub.
Hilb Group, Mackintire Insurance
The Hilb Group has acquired Massachusetts-based Mackintire Insurance Agency Inc., a commercial and personal lines retail insurance agency in Westborough, Mass. The company specializes in the hospitality industry. Following the transaction, Mackintire Managing Director Bob Mackintire and his associates will continue to operate under the company's existing name. The Hilb Group, a portfolio company of Boston-based private equity firm Abry Partners, now has 65 offices in 17 states.
Midwest
AssuredPartners, Carriage Insurance
AssuredPartners Inc. has acquired Carriage Insurance Agency Inc. in Hudson, Ohio, a general insurance agency that will continue to operate under the leadership of Bill Landess. In operation in Hudson since 1983, the agency currently reports annualized revenues of $1.1 million.
Arthur J. Gallagher, Captive Design
Global insurance broker Arthur J. Gallagher & Co. has acquired Chicago-based Captive Insurance Company Design and Operations. Terms of the transaction were not disclosed. Formed in 2002 by Clarity Group Inc., Captive Insurance Company Design and Operations is a captive consultant focused exclusively on medical and professional liability. Captive participants are all principally healthcare providers from various areas of the industry, including medical facilities, physicians and senior care organizations. Andrew Becker and his associates will relocate to Gallagher's office in Rolling Meadows, Illinois, under the direction of Patrick Gallagher, head of Gallagher's Midwest retail operations.
Marsh & McLennan, Otis-Magie
Marsh & McLennan Agency, the middle market agency subsidiary of Marsh, has acquired Otis-Magie Insurance Agency Inc., an independent agency in Duluth, Minnesota. Otis-Magie's 46 employees will continue operating out of their existing locations under the name Otis-Magie, a Marsh & McLennan Agency company. Tom Stender, who has served as chairman and CEO of Otis-Magie since 2011, will continue to lead the operation.
Alera Group, Bailey & Co.
Alera Group has acquired Bailey & Co., an employee benefits firm in Cincinnati. Beyond traditional employee benefits, Bailey has expertise in private exchanges, partially self-funded benefit plans, and captive-based reinsurance programs. Based in Illinois, Alera Group is an independent insurance agency formed in 2017.
South Central
NSM Insurance, KBK Insurance
NSM Insurance Group has acquired the assets of Harahan, Louisiana-based program manager, KBK Insurance Group, which specializes in the towing and transportation industries. NSM has said its ambition is to be the leading provider of niche insurance programs in North America and the UK. NSM is a subsidiary of White Mountains Insurance Group.
Dean & Draper, Painter Reichman
Dean & Draper Insurance Agency has acquired Painter Reichman & Co., a Houston-based personal and commercial insurance agency. Painter Reichman was founded in 1906 and was purchased by J.T. Curson in 1935. Since then, it has remained family-owned until its acquisition on Dec. 1, 2018, by Dean & Draper, an agency headquartered in Houston. Don Curson joined Painter Reichman & Co in 1976 as the third generation in the Curson family to make a career in the insurance industry.
Risk Strategies, RiskPro Global Partners
Risk Strategies has acquired RiskPro Global Partners, a property/casualty and employee benefits firm in Dallas. RiskPro Global Partners focuses on a number of industries that complement existing Risk Strategies markets including real estate, financial services, hospitality, healthcare, construction and technology. In addition to Dallas, RiskPro Global has offices in Austin and Houston.
Brown & Brown, Dealer Associates
Brown & Brown of Kentucky Inc. has acquired substantially all assets of Arlington, Texas-based Dealer Associates Inc. (DAI). DAI provides finance and insurance (F&I) products, coupled with sales and service training, financial performance consulting, and reinsurance services for auto dealers in Texas and other states. DAI has annual revenues of $8.5 million. DAI principals Tony Fincannon and Rick Messenger and their team will join the Brown & Brown Dealer Services practice, which is overseen by Mike Neal, president of Brown & Brown of Kentucky Inc.
Southeast
JenCap Holdings, Risk Innovations
New York-based JenCap Holdings (JCH), a specialty insurance business, is acquiring privately-held Risk Innovations, a specialty wholesale broker in Atlanta. Risk Innovations was founded in 2002 and has been led by Bruce Peddle since then. John F. Jennings, president and CEO of JCH, said the wholesale broker, which has focused on worker's compensation, was a strategic target for JCH. JCH was formed in 2016 by The Carlyle Group and JCH management to consolidate specialty insurance distribution businesses. This acquisition is the eighth by JCH since its founding.
Hilb Group, Huckaby & Associates
The Hilb Group has acquired South Carolina-based Huckaby & Associates, which sells in South Carolina, North Carolina and Georgia. Ricky Spiro, CEO of Hilb, said Huckaby's South Carolina presence supports the growth of its Southeast footprint. Managing Director Joey Huckaby will continue to lead Huckaby's associates out of their existing location in Columbia, S.C. The Hilb Group, a portfolio company of private equity firm Abry Partners, now has 64 offices in 17 states.
West
Valley Insurance, Leavitt Group
Leavitt Group has made Valley Insurance Agency, an independent agency located in downtown Redmond, Wash., part of Leavitt Group Northwest. Valley's Robert Bush, Sheila Siggins and Ginger Patton will remain with the merged agency. Bush and Siggins will work out of Leavitt's Everett, Wash., office, and Patton will work out of the Auburn, Wash., office. Leavitt Group Northwest has offices in Oak Harbor, Auburn, Everett, and University Place.
Hub International, G.P. Barich Insurance
Hub International Ltd. has acquired the assets of G.P. Barich Insurance Agency Inc. in Redlands, Calif. George Barich, president of Barich Insurance, will join Hub California andreport to Jim Jesser, executive vice president of Hub California.
Was this article valuable?
Here are more articles you may enjoy.
From This Issue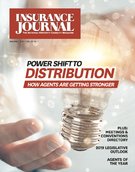 IJ's Agents of the Year; 2019 Agents & Brokers Meetings / Conventions Directory; Market: Employment Practices Liability