National
China Re, Chaucer, Hanover
China Reinsurance (Group) Corp. has completed the 100 percent equity acquisition of Chaucer Holdings Ltd. – the major portion of Hanover Insurance Group's Lloyd's international specialty business. The acquisition of Chaucer Insurance Co. DAC (Chaucer Dublin) and Hanover Australia Hold Co. Pty Ltd (SLE) remain subject to local regulatory approval and is expected to close by the end of first quarter in 2019. China Re is acquiring Chaucer for total proceeds of $930 million to $940 million. The deal was completed on Dec. 28; it was first announced in September 2018. China Re said the purchase of London-based Chaucer marks a milestone in the expansion of its global footprint, given the fact that Chaucer is a top quartile player in the Lloyd's market and a global re/insurer. China Re said it aims to strengthen its core reinsurance business, enhance its global market position and better serve China's Belt & Road Initiative.
Carlyle Group, Sedgwick
The Carlyle Group Global is now the majority owner of claims and technology services firm Sedgwick. Funds managed by Carlyle completed an ownership transaction that is valued at approximately $6.7 billion on Dec. 31. Previous majority shareholder KKR is fully exiting its position. KKR and company management paid $2.4 billion in 2014 to buy Sedgwick. Funds managed by Stone Point Capital and Caisse de depôt et placement du Quebec, together with Sedgwick management, remain as minority investors. Equity capital for the investment came from Carlyle Partners VII, an $18.5 billion fund that focuses on buyout transactions in the U.S., and Carlyle Global Financial Services Partners III, a financial services buyout fund.
East
Ryan Specialty, Stetson Funding, Superior Payment
Ryan Specialty Group has acquired the assets and operations of Superior Payment Plan, a premium finance company based in Depew, N.Y. Superior's operations will become part of Stetson Insurance Funding, a subsidiary of RSG and a licensed premium finance company.
Hilb, Bruce Crohn
The Hilb Group has acquired Bruce Crohn, an employee benefits consultant and insurance brokerage firm located in Cambridge, Mass. It assists small-to-medium sized companies in managing group benefits programs, with a specialty in early-stage technology firms.
Shore Bancshares, Avon Dixon Agency, Alera Group Agency
Shore Bancshares Inc., a financial holding company headquartered in Easton, Md., and The Avon-Dixon Agency, its wholly-owned insurance producer firm, have agreed to purchase the assets of Avon-Dixon – an Alera Group Agency, a Delaware limited liability company and subsidiary of Alera Group Inc. Alera will purchase substantially all of the assets used in the operation of Avon-Dixon's insurance business, and Shore Bancshares will receive net proceeds of approximately $26.9 million at closing. The transaction will increase Shore Bancshares regulatory capital, enabling the company to expand its banking activities, and the association with the Alera Group will bring new opportunities for growth, according to Shore Bancshares President and CEO Lloyd L. Beatty. Following the transaction, Beatty stated that the entire team will remain in place, and Rich Trippe will remain as the managing partner.
Hilb, H.J. Knight
The Hilb Group has acquired Massachusetts-based H.J. Knight International Insurance Agency, a commercial insurance broker that specializes in alternative risk management for commercial clients throughout the U.S. Managing Director Matt Lanza and his team will continue to operate out of HJK's Braintree, Mass., location following the acquisition.
A.J. Gallagher, Preston-Patterson
Arthur J. Gallagher & Co. has acquired Conshohocken, Penn.-based Preston-Patterson Co., a retail property and casualty insurance broker specializing in broadcasters and media clients throughout the U.S. It also serves other commercial clients, as well as personal lines clients with a particular focus on coastal property exposures. Stephen, John and Stuart Patterson, and their associates, will initially remain in their current locations in Conshohocken and in Barnegat Light, N.J., under the direction of Dan Tropp, head of Gallagher's Mid-Atlantic retail property and casualty brokerage operations.
South Central
Worley Claims Services, Replacement Source of America
Fishers, Indiana-based insurance claims services provider Worley Claims Services has acquired Replacement Source of America Inc. (ReSource), headquartered in Dallas. ReSource specializes in contents loss evaluation and pricing, contents replacement, salvage, and on-site field inventory services for the property insurance market. The transaction with ReSource is Worley's seventh acquisition since 2015.
Seeman Holtz, Professional Medical Services
Seeman Holtz Property & Casualty has acquired insurance broker Professional Medical Insurance Services, headquartered in Houston, with seven other offices across the country. This PMIS medical and malpractice group will further expand the Seeman Holtz Healthcare Division, headed by Guy Feist in the Oklahoma City office. Professional Medical Insurance Services works exclusively within the healthcare industry. Bill Reiss of PMIS will remain in a leadership role for Seeman Holtz Healthcare. Seeman Holtz Property & Casualty Inc. is headquartered in Boca Raton, Florida.
Webb, Young & Webb, Rich & Cantrill
Oklahoma City-based Webb, Young & Webb Insurance has joined Rich & Cartmill Insurance and Bonds, headquartered in Tulsa, Oklahoma. Webb, Young & Webb Inc. was started in 1947 and has been passed through four family generations. Rich & Cartmill Insurance and Bonds was founded in 1922 and has branches throughout Oklahoma, Kansas, Missouri, Indiana and Louisiana.
Midwest
Hub, Sheridan Road Financial
Chicago-based, global insurance brokerage Hub International Limited has acquired the assets of Sheridan Road Financial, an institutional retirement consulting and private wealth firm, and certain of its affiliates. Headquartered in Chicago, Sheridan Road manages more than $14 billion in assets and services of more than 300,000 individuals through its retirement plan and wealth management practices. Sheridan Road Founder and Chief Executive Officer Daniel Bryant, and Managing Partner Jim O'Shaughnessy, will join Hub Midwest. Bryant was named president of National Sales, Retirement and Private Wealth, and O'Shaughnessy assumes the role of president of Retirement and Private Wealth in the Central Region. Sheridan Road's advisors will be part of Hub International Investment Services Inc. and a subsidiary of Hub. They will also maintain their broker dealer affiliation with LPL.
Auffenberg, Valley Agency Alliance
Auffenberg Insurance Services in Belleville, Illinois, has joined Valley Insurance Agency Alliance, which has 120 independent insurance agencies in Missouri and Illinois. Owned by Mike Auffenberg and Nathan Schumacher, Auffenberg Insurance Services previously was known as Auffenberg Allstate. The agency specializes in personal lines, as well as fleet and employee workplace benefits.
ONI Risk Partners, MBAH Insurance
ONI Risk Partners, headquartered in Indianapolis, is acquiring MBAH Insurance, a Lafayette, Indiana-based insurance agency that has been in operation for more than 90 years. The MBAH team joins ONI's 300-plus insurance professionals serving business and individual clients throughout Indiana, Illinois and Kentucky. The MBAH Lafayette location will serve as ONI's fifth Indiana regional office in addition to its offices in Indianapolis, Ft. Wayne, Terre Haute and Evansville. MBAH Executive Vice President Matt Metzger will serve as the market executive for the new regional office.
Hull, Izzo Insurance Services
Hull & Company, a subsidiary of Brown & Brown Inc., has acquired substantially all of the assets of Izzo Insurance Services Inc., based in Bloomingdale, Illinois. Founded in 1980 by Karen Izzo, Izzo Insurance Services is a wholesale brokerage that specializes in providing workers' compensation insurance coverage options to its retail broker partners. The firm has annual revenues of approximately $2,000,000. Following the acquisition, Izzo Insurance Services will continue doing business from its Bloomingdale location under the leadership of Izzo. The office will operate as a new stand-alone location in Brown & Brown's Wholesale Brokerage Division under the leadership of Tony Strianese, president of Brown & Brown's Wholesale Brokerage Division.
Southeast
Aloisi, Brightway Insurance
Lucas Aloisi has opened a Brightway Insurance Agency located in Parkland, Fla. Born and raised in South Florida, Aloisi comes to Brightway from MassMutual, where he worked in the financial planning and insurance industry for the past two years. Brightway is a national property and casualty insurance retailer, selling through a network of franchised independent stores.
Arthur J. Gallagher, Complete Benefit Alliance
Arthur J. Gallagher & Co. has acquired Complete Benefit Alliance LLC. Terms of the transaction were not disclosed. Complete Benefit Alliance (CBA) is a benefits enrollment firm serving large and mid-sized, public and private sector employer groups from its home office in Birmingham, Ala., and regional office in Phoenix, Ariz. Steven R. Griffin and his team will continue to operate from their current locations under the direction of John Neumaier, head of Gallagher's Great Lakes employee benefits consulting and brokerage operations.
West
Alliant, Public Sector Pension Investment Board
Newport Beach, Calif.-based Alliant Insurance Services Inc. announced that a Canadian pension investment manager is making an investment in the firm. The investment by the Public Sector Pension Investment Board is joined by an additional investment from funds managed by Stone Point Capital LLC. Terms of the deals were not announced. Following the transaction, funds managed by Stone Point will remain Alliant's largest institutional shareholders while the company's management and producers will continue to own the majority of the firm.
Was this article valuable?
Here are more articles you may enjoy.
From This Issue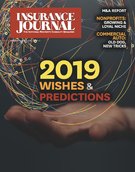 Agency Mergers & Acquisitions Report; Markets: Nonprofits, Commercial Auto; Claims Trends