National
Aon, Willis Towers Watson
Aon Plc said it's no longer pursuing a combination with rival insurance brokerage Willis Towers Watson Plc, a day after confirming that it was considering a merger. The company reported it was in the early stages of exploring an all-share tie-up with Willis Towers after Bloomberg reported the potential plans. The companies held preliminary talks and Aon was preparing to submit a bid in the coming weeks, people familiar with the matter had said, asking not to be identified as the details aren't public. The potential combination with Willis could have been the industry's largest-ever merger.
AmWINS Group, The Flood Insurance Agency
AmWINS Group Inc., a global distributor of specialty insurance products and services, has completed the acquisition of The Flood Insurance Agency (TFIA), a Florida-based managing general agency that specializes in private market flood insurance.
The Flood Insurance Agency, operating as a program administrator for Lexington Insurance Co., provides access to Private Market Flood, an alternative to the National Flood Insurance Program.
The addition of TFIA expands AmWINS' capabilities for flood products in both personal and commercial lines.
AmWINS Group Inc. is based in Charlotte, N.C., and operates through more than 115 offices globally and handles premium placements in excess of $15.3 billion dollars annually.
The Flood Insurance Agency (TFIA), established in 1984 and located in Gainesville, Fla., specializes in the distribution of private flood insurance throughout the U.S.
East
Brown & Brown, LRS&C
Brown & Brown Insurance Agency of Virginia Inc., a subsidiary of Brown & Brown Inc., has acquired substantially all of the assets of LRS&C.
Brown & Brown Inc. is an insurance brokerage firm providing risk management to individuals and businesses.
LRS&C traces its roots back to July 1917 in Virginia and Washington, D.C. The firm provides a variety of personal and business insurance products and services to clients in the Mid-Atlantic region of the U.S.
Following the acquisition, the LRS&C team will join Brown & Brown's existing Manassas, Va., office and will operate under the leadership of Brown & Brown Insurance Agency of Virginia President Bill Strachan.
XPT Group, SVA Underwriting Services
XPT Group LLC has acquired SVA Underwriting Services Inc., a trucking and transportation MGA and Lloyd's Coverholder.
SVA Underwriting specializes in physical damage and cargo cover with the ability to underwrite, issue policies and endorsements and arrange for engineering and loss control. Founded in 2013 by industry veteran Steven Vallejo, SVA Underwriting is a New York City-based company.
XPT is a new specialty insurance distribution company formed through a partnership of management executives and an institutional investor who backs early stage insurance distribution firms. It brings together underwriting and wholesale brokerage firms across many specialty lines through acquisitions and new product development.
The transaction closed on January 17, 2019, and SVA Underwriting will continue to operate under its established brand name so client business will not be affected. XPT was represented in the acquisition by TAG Financial.
Following the acquisition, XPT continues to develop its wholesale insurance broking and managing general agency platform through acquisitions and operational growth. This is XPT's third investment preceded by Western Security Surplus and WE Love & Associates (WEL).
In the future, SVA Underwriting and WEL will leverage their trucking and transportation strengths to build new products while opening new markets to better serve their retail network.
Midwest
Stafford & Stafford Insurance, Leavitt Group
Harrisonville, Missouri-based Stafford & Stafford Insurance has affiliated with Leavitt Group, a network of insurance brokers whose collective strength allows members to provide national insurance products and risk management resources to their clients.
Stafford & Stafford Insurance is a full-service agency located in the heart of Missouri.
Darrin and Carol Stafford opened the agency in 2003. Darrin Stafford has worked in the industry since 1994. Carol Stafford started her insurance career at an agency in her hometown of Harrisonville in 1983. Josh Stafford manages the agency.
Hub International, Integrated Risk Solutions
Hub International Limited, a global insurance brokerage headquartered in Chicago, has acquired the assets of Integrated Risk Solutions Inc.
Based in Waukesha, Wisconsin, Integrated Risk is a commercial insurance and employee benefits agency specializing in the areas of risk management consulting, commercial insurance brokerage, employee benefits, loss control engineering and claim management. Integrated Risk has advised on compliance and risk management issues for clients in the construction, manufacturing, transportation, hospitality, retail and public entity industries.
Tom Precia, president, CEO and co-founder of Integrated Risk, and Pete Aisbet, executive vice president and co-founder of Integrated Risk, will join Hub Midwest and report to Lerone Sidberry, CEO of Hub Midwest. Precia will assume the role of CEO of Wisconsin operations.
South Central
Ryan Specialty Group, Westphalen Insurance Services, Myron F. Steves & Co.
Chicago-based Ryan Specialty Group LLC has closed its acquisition of the assets and operations of Westphalen Insurance Services Inc, an independently owned wholesale insurance brokerage with offices in Edmond, Oklahoma.
The Westphalen team is now a part of R-T Specialty LLC, the wholesale brokerage unit of Ryan Specialty Group, and has established RT Specialty's presence in Oklahoma. This transaction was previously announced on Feb. 11, 2019.
Founded in 1987, Westphalen is a long-time family run business which focuses on property and casualty, personal lines and transportation. Lead by Jeff Westphalen, the firm has binding authority commitments within each segment with 'A' rated XV carriers.
Ryan Specialty Group also completed its acquisition of the assets and operations of Myron F. Steves & Co., an independently owned wholesale brokerage headquartered in Houston, Texas, with additional offices in Austin, Dallas and San Antonio.
The Myron Steves team has become part of R-T Specialty, LLC (RT Specialty), the wholesale brokerage unit of Ryan Specialty Group, and expands the company's presence in Texas, strengthening RT's presence in Dallas and Houston and establishing offices in Austin and San Antonio. This transaction was previously announced on Feb. 14, 2019.
Founded in 1955, Myron Steves' specialties include commercial property and casualty, professional liability, healthcare, transportation and personal lines.
Southeast
Insurance Group, BLP Insurance Services
Insurance Group of St. Charles County has purchased BLP Insurance Services dba Pelt Risk Advisors, an Atlanta-based insurance company founded in 2010 by Byron Pelt.
Insurance Group of St. Charles County, headquartered in St. Louis, Mo., is a member of Valley Insurance Agency Alliance (VIAA), a family of more than 120 independent insurance agencies in Missouri and Illinois. Founded in 1992, it is a full-service insurance agency that specializes in personal and business insurance. The company is owned by husband and wife Ben and Rhonda Fischer.
BLP Insurance Services is an independently owned and locally operated insurance agency offering insurance products from a variety of carriers. It offers vehicle, property, business, health and life insurance in the Atlanta area.
Founded in 2006, VIAA is the regional founding member for the Strategic Insurance Agency Alliance (SIAA).
Patriot Growth Insurance Services, Turner Insurance & Bonding Co.
Patriot Growth Insurance Services LLC, a national retail insurance agency, has added Turner Insurance & Bonding Company to the Patriot platform. The addition of Turner deepens Patriot's property and casualty insurance capabilities and further supports Patriot's national expansion.
Founded in 1934 and based in Alabama, Turner specializes in the construction industry, providing surety, insurance and risk management products to a diverse construction client base. Led by CEO David Durden, Turner has experience in the United States and abroad in various construction sectors including infrastructure, governmental and institutional.
This partnership comes just weeks after Patriot announced the formation of its growth-focused national insurance services platform in collaboration with 17 independent insurance agencies and with TRUE Network Advisors.
Founded in 2019, Patriot is a growth-focused national insurance services firm that partners with employee benefits and property & casualty agencies across the United States. Patriot's collaborative model delivers resources and strategic support to its agencies. Patriot is backed by growth equity investor Summit Partners.
West
Relation Insurance, Villane Ward
Relation Insurance Services has acquired Villane Ward Insurance Services Inc. in Fresno, Calif.
Villane Ward is a privately owned and operated employee benefits brokerage that specializes in mid-market clients.
Relation Insurance Services is a privately owned insurance brokerage that offers property/casualty, risk management, benefits, and TPA-consulting services.
InterWest, Placer Insurance Agency
InterWest Insurance Services has acquired Placer Insurance Agency in Roseville, Calif.
Placer specializes in commercial, surety bonds, employee benefits and personal insurance programs.
InterWest is a locally owned, regional insurance brokerage headquartered in Sacramento with 340 employees.
Was this article valuable?
Here are more articles you may enjoy.
From This Issue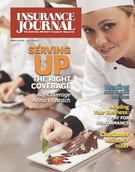 Manufacturing; Markets: Restaurants & Bars; Corporate Profiles – Spring Edition