National
Aon, Willis Towers Watson
Global insurance brokers Aon and Willis Towers Watson announced a definitive agreement to combine in an all-stock transaction with an implied combined equity value of approximately $80 billion.
Under the terms of the agreement unanimously approved by the boards of directors of both companies, each Willis Towers Watson shareholder will receive 1.08 Aon ordinary shares for each Willis Towers Watson ordinary share, and Aon shareholders will continue to own the same number of ordinary shares in the combined company as they do immediately prior to the closing.
Upon completion of the combination, existing Aon shareholders will own approximately 63% and existing Willis Towers Watson shareholders will own approximately 37% of the combined company on a fully diluted basis.
According to S&P, Aon intends to combine with Willis in an all-stock transaction valued at about $30 billion. (Willis shares will be exchanged to Aon shares.)
The combined company, to be named Aon, will be focused on the areas of risk, retirement and health.
Combined, the companies have more than $20 billion in revenue. Aon reported $11 billion in revenue with $2.2 billion net income for 2019 compared to $9 billion revenue and $1.4 billion net income for Willis Towers Watson.
Aon will maintain operating headquarters in London, United Kingdom. The parent company will be incorporated in Ireland. The combined firm will have 95,000 employee globally, with what the announcement said will be a "significant presence" in Chicago, New York and Singapore.
John Haley will take on the role of executive chairman with a focus on growth and innovation strategy. The combined firm will be led by Greg Case and Aon Chief Financial Officer Christa Davies. The board of directors will comprise proportional members from Aon and Willis Towers Watson's current directors.
The parties expect the transaction to close in the first half of 2021.
---
East
FBinsure, Nimiroski Insurance Agency
FBinsure has acquired the Nimiroski Insurance Agency, an independent agency located in Attleboro, Mass.
Established in 1963, Nimiroski Insurance has been an active member of the Attleboro community for more than 50 years, providing personal and business insurance to more than 1,000 clients.
As part of the transition, the Nimiroski office will be relocating to FBinsure's 8 Park Street location in the Attleboro city center.
This is the sixth acquisition for FBinsure in the past four years. Most recently, FBinsure acquired the Jose S. Castelo Insurance Agency of New Bedford, Dartmouth, and Fall River, and the Reid-Hofmann Insurance Agency of West Bridgewater and Mashpee.
The Andrew Agency, A & R Associates
The Andrew Agency has acquired A & R Associates in Alexandria, Va., effective Jan. 15, 2020.
Founded in 1971, A & R Associates provides commercial insurance services to clients throughout Virginia, Maryland and D.C.
The Andrew Agency, an independent insurance broker, provides personal and commercial insurance solutions to clients in Virginia, Maryland and D.C.
Warren Insurance Agency, Satellite Agency Network Group
Warren Insurance Agency Inc. recently joined Satellite Agency Network Group Inc., an alliance of independent insurance agencies in the Northeast.
Warren Insurance Agency was founded in 1979 by its owner, Edward Warren, and provides home, auto, life and business insurance coverages to clients in Dorchester, Mass., and the metro Boston area.
More than 370 members across eight states have access to more than 45 insurance companies and write more than $808 million in total combined premium at SAN Group. SAN is the founding master agency of SIAA, a national alliance of independent insurance agencies.
Hub International Limited, Kokkoris Insurance Services
Hub International Limited, a global insurance brokerage, has acquired the assets of Kokkoris Corp., d/b/a Kokkoris Insurance Services.
Based in Astoria, N.Y., Kokkoris Insurance Services is a boutique insurance agency that provides commercial and personal insurance to clients, especially in the construction, real estate and hospitality industries.
---
South Central
Davis & Haynes, Stephens Insurance
Little Rock, Ark.-based Stephens Insurance LLC, an affiliate of Stephens Inc., has agreed to divest a substantial portion of its personal lines business to Davis & Haynes Insurance Inc.
Davis & Haynes was established by former Stephens Insurance members Gene Davis, Ben Haynes and Doug Lowe. Haynes, Lowe and the account management team joining Davis & Haynes largely managed the personal lines business being divested.
Stephens Insurance President and CEO Miles Stephens said in a media release that Stephens Insurance will concentrate on its commercial lines business.
Stephens Insurance currently has more than 170 associates throughout Stephens Insurance's network of offices in Fayetteville, Ark.; Dallas; Jackson, Miss.; Houston; and Birmingham, Ala.
---
Southeast
The Hagar Group, Bruening Insurance Agency, Renaissance Alliance
Renaissance Alliance Insurance Services, a membership alliance for independent insurance agencies, has added two new independent insurance agencies to its Florida network.
The new agencies include Bruening Insurance Agency of Weston, Fla., and The Hagar Group of Inverness, Fla.
Bruening Insurance is a family owned and operated agency serving Florida since 1964. In addition to the Weston office, the agency has an additional office in Jupiter, Fla. J. Bradley Bruening is president.
The Hagar Group is the oldest and largest independent insurance agency in Central Florida, and is a family owned and operated company serving Florida clients since 1929. Greg Hagar is president.
These agencies bring the total number of agencies that have joined the Renaissance Alliance network in Florida to 13 since opening the office less than a year ago.
Founded in 1999, Renaissance Alliance is a membership alliance for independent agencies.
USI Insurance Services Acquire, Full Service Insurance Agency
USI Insurance Services, a provider of risk management, employee benefit and retirement plan consulting, has acquired Franklin, Tenn.-based Full Service Insurance Agency Inc.
Founded in 1975, Full Service Insurance is a middle Tennessee independent insurance agency specializing in commercial insurance, employee benefits and personal risk solutions for businesses and individuals.
According to John Pratt, vice president, Full Service Insurance, its clients will continue to have the opportunity to work with its team of local agents, in addition to gaining access to an expanded suite of tools, solutions and expertise available through the USI ONE Advantage.
Headquartered in Valhalla, N.Y., USI connects over 7,000 professionals from approximately 200 offices to serve clients' local, national and international needs.
PointeNorth Insurance Group, Iron Mountain Insurance
PointeNorth Insurance Group LLC, an independent insurance agency in the Southeast with local ownership, has acquired Iron Mountain Insurance, located in Birmingham, Ala.
Iron Mountain Insurance, which specializes in property and casualty insurance, has joined the PointeNorth Alliance, which provides additional markets, services, and tools to help agencies develop new talent, grow organically and increase profitability.
As a PointeNorth Alliance member, Iron Mountain Insurance can provide customers additional services and specialty programs in the areas of transportation, franchise, non-emergency and emergency ambulance and construction. Matt Kilgore, president of Iron Mountain Insurance, will serve as senior vice president of PointeNorth Insurance Group. Jonathan Scarborough, senior vice president of Iron Mountain Insurance, will also serve as senior vice president of PointeNorth Insurance Group.
With the acquisition of Iron Mountain Insurance, PointeNorth Insurance Group expands to more than 200 employees.
Risk Strategies, Atlas Insurance Management
Risk Strategies, a privately held, national insurance brokerage and risk management firm, has acquired Atlas Insurance Management of North Carolina, a company that works on the formation and management of captive insurance companies.
The acquisition was part of Risk Strategies' purchase of Atlas Group Limited and its affiliated entities.
Founded in 2002, Atlas has manages captive insurance entities, as well as forms and operates a number of its own insurers. In particular, Atlas forms and operates protected cell companies, making cells available to captive clients and acting as fronting insurers as well as pooling reinsurers.
The Atlas acquisition brings both onshore and offshore capabilities with a presence in multiple domiciles, as well as licenses in 10 U.S. jurisdictions. This expands Risk Strategies' operating presence outside of the United States. It also adds Atlas' team to Risk Strategies' client resources. With the addition of Atlas, Risk Strategies is now involved with over 1,000 captive programs.
Risk Strategies is a privately held, national firm with offices across the country.
---
West
Virtus, First Line Insurance Services
Virtus LLC and its subsidiary Virtus Rocky Mountain LLC have acquired the Denver, Colo.-based insurance brokerage firm, First Line Insurance Services.
First Line's focus has been on personal insurance and specialty insurance, catering to vacation rental and storage unit owners.
Virtus is a Kansas City-based insurance brokerage and consulting firm.
Alliant, LifeBalance Program
Alliant Insurance Services Inc. has acquired the Portland, Ore.-based LifeBalance Program, adding the well-being discount program to its employee benefits group's suite of products and services.
The entire LifeBalance team will join Alliant and continue serving clients nationwide from its Portland headquarters.
Newport Beach, Calif.-based Alliant provides property/casualty, workers' comp, employee benefits, underwriting, surety, and financial products and services.
Was this article valuable?
Here are more articles you may enjoy.
From This Issue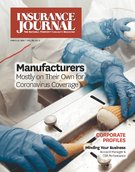 Manufacturing; Markets: Restaurants & Bars, Business Interruption; Corporate Profiles – Spring Edition