National
Paragon, Trident Public Risk Solutions, Argo
Paragon Insurance Holdings, a national managing general agency, said it has closed on the previously-announced purchase of Trident Public Risk Solutions from Argo Group.
Trident provides insurance and risk management services for public sector entities such as counties, municipalities, schools, special districts and governmental inter-local pools.
It operates through a distribution network of national brokerages and local agencies. It has offices in San Antonio, Texas and Springfield, Massachusetts.
Paragon is headquartered in Avon, Connecticut, and writes more than 20 insurance programs including ones for arborists, ski facilities, pest control, timber, precision manufacturing and wineries.
Paragon said the transaction positions it as one of the largest providers of commercial insurance coverage for public entities in the U.S.
Paragon will continue to write business on Argo paper through a managing general agency agreement. Bermuda-based Argo will retain Trident's claims operations and will provide claims services to Paragon for the public entity business.
All existing Trident policies and products will remain valid and available.
Argo expects to report a pre-tax gain of approximately $37 million related to the transaction.
The business will continue to report to Sue Coates, president of TPRS – Guaranteed Cost Division and John Atherton, president of TPRS – Retained Limits.
---
East
Alera Group, Trilogy Group Benefits
Alera Group, a national employee benefits, property and casualty, retirement services and wealth management firm, has acquired Trilogy Group Benefits LLC, effective February 28, 2020.
Trilogy joins Alera Group through local firm AIA, Alera Group. The Trilogy team will continue serving clients in their current roles.
Trilogy was founded in 2009 as a full-service corporate benefits firm. Since its founding, the firm has developed into an agency that specializes in group healthcare, dental and vision, as well as ancillary benefits.
Trilogy serves hundreds of clients throughout Pennsylvania, providing customized benefit strategies.
Based in Deerfield, Ill., Alera Group's more than 1,800 employees serve thousands of clients nationally in employee benefits, property/casualty, retirement services and wealth management.
Peachtree Special Risk Brokers, RLA Insurance Intermediaries
Peachtree Special Risk Brokers LLC, a subsidiary of Brown & Brown Inc., has acquired substantially all of the assets of RLA Insurance Intermediaries.
RLA Insurance Intermediaries was founded in 2010 by Jeff Hays and Chris Skaletsky as a wholesale insurance broker serving retail insurance agents.
The firm specializes in offering professional lines, property and casualty, and healthcare coverages to meet the needs of businesses throughout the U.S.
Following the acquisition, the RLA Insurance Intermediaries team will continue doing business from its existing headquarters in Boston, Mass., and other locations in West Palm Beach, Fla.; Brentwood, Tenn.; Potomac Falls, Va.; and Manassas, Va.
The offices will continue under the leadership of Hays and will form a new stand-alone operation within Brown & Brown's Wholesale Brokerage Segment.
Brown & Brown, Inc. is an insurance brokerage firm providing risk management to individuals and businesses.
Rios Agency, Satellite Agency Network Group
Rios Agency recently joined Satellite Agency Network Group Inc., an alliance of independent insurance agencies in the Northeast.
Rios Agency provides all lines of property, casualty, life and health insurance coverages to clients in Falmouth and Portland, Maine.
Owner Roberto Rios started in insurance in 2008 as an insurance producer and agency manager for Allstate Insurance, selling personal and commercial lines throughout the greater Portland area.
SAN Group Inc. has more than 370 members across eight states with access to more than 45 insurance companies. It is the founding master agency of SIAA, a national alliance of independent insurance agencies.
---
Midwest
Security Insurance Group, Midwest Insurance Agency Alliance
Security Insurance Group Inc. of Pierre, South Dakota, has joined Midwest Insurance Agency Alliance, a network of insurance agencies across seven states.
Founded in 2012, SIG is a full-service insurance agency owned by Vern Armstrong. The agency offers home, farm, auto and classic car insurance to its clients in the greater Pierre area.
The SIG agency is located at 3341 Airport Road within The Ag Agency office, its sister company that started in 1999 exclusively providing crop insurance to farm businesses.
Founded in 2001, MIAA is comprised of more than 200 independent agency members in Nebraska, Kansas, Missouri, Iowa, North Dakota, South Dakota and Minnesota. MIAA is a wholly owned subsidiary of SIAA (Strategic Insurance Agency Alliance) and one of its 48 regional master agencies.
---
South Central
XPT Partners, LP Risk Inc.
XPT Partners LLC has acquired Texas-based LP Risk Inc., a full service managing general agency and surplus lines broker with a wide range of commercial property/casualty coverages distributed to retail agents through in-house and brokerage markets.
Led by Landon Parnell, LP Risk has offices in Houston, San Antonio and Dallas. It is a full service managing general agency and surplus lines broker with a wide range of commercial property and casualty to retail agents through in-house and brokerage markets.
In-house markets can provide coverage for general liability, excess/umbrella, commercial auto, property, cargo, equipment and more.
The transaction closed on April 22. LP Risk will continue to operate under its established brand name, so client business will not be affected.
XPT said its transportation expertise expands by partnering with LP Risk and its in-house commercial auto programs and brokerage markets.
The partnership with Landon Parnell and LP Risk is a perfect fit with XPT's existing operations and represents a significant platform for XPT's expansion into the P/C brokerage space, the company said.
The acquisition is XPT's sixth investment and was preceded by Western Security Surplus, WE Love & Associates, SVA Underwriting, Klein & Costa and Sierra Specialty.
---
Southeast
Patriot Growth, Florida Southern Insurance
Patriot Growth Insurance Services, LLC has added Florida Southern Insurance LLC to the its platform.
The partnership with FSI will enhance Patriot's existing property and casualty insurance capabilities and further support the platform's expansion into the Florida marketplace.
Based in Naples, Fla., FSI is a full-service independent insurance agency that provides property and casualty insurance products, including auto, homeowners, business, flood and boat coverage, with a specific focus on the affluent marketplace. The company is led by founder and President Brad Panos.
With this partnership, FSI will operate within Shapiro Insurance Group, a multiple-line agency that offers a range of auto, homeowners, life and business insurance products to thousands of families and businesses throughout the southeastern United States.
Founded in 1990 by President Joel Shapiro, SIG joined Patriot in 2019 and has continued its growth trajectory as one of the largest insurance agencies in Florida.
Together, FSI and Jacksonville-based SIG form the cornerstone of Patriot's rapidly growing presence in the state of Florida.
Founded in 2019, Patriot is a growth-focused national insurance services firm that partners with employee benefits and property/casualty agencies across the United States.
Fisher Brown Bottrell, Boyles Moak Insurance Services, Creative Benefit Solutions
Fisher Brown Bottrell Insurance Inc., an independent insurance agency and subsidiary of Trustmark National Bank, has acquired Boyles Moak Insurance Services and Creative Benefit Solutions.
Founded in 1893 and headquartered in Ridgeland, Mississippi, Boyles Moak Insurance Services provides quality protection for thousands of individuals & families by offering auto, home, health, business, liability and life insurance.
Additional offices are located in Biloxi and Meadville, Miss.
Located in Birmingham, Alabama, Creative Benefit Solutions' offerings include employee-focused insurance and benefit strategies using data-driven models to align products and services with clients' business objectives.
The Boyles Moak Insurance Services acquisition was effective April 30, 2020 and Creative Benefit Solutions acquisition was effective Jan. 1, 2020, and both will now operate under the Fisher Brown Bottrell Insurance brand.
Retail and business insurance agency Fisher Brown Bottrell Insurance Inc. is a subsidiary of Trustmark National Bank, a wholly-owned subsidiary of Trustmark Corporation, a diversified financial services company headquartered in Jackson, Miss.
---
West
Heffernan, Contractors Insurance NW
Heffernan Insurance Brokers has acquired Contractors Insurance NW in Olympia, Wash.
Heffernan purchased the assets of CINW to join HeffDirect, a division of Heffernan Insurance Brokers.
CINW offers commercial insurance for contractors in Washington, Oregon, California, Idaho, and Texas,.
Walnut Creek, Calif.-based Heffernan is an independent insurance brokerage firm that provides insurance and financial services products to a range of businesses and individuals.
Crest Insurance Group, John Creps Agency
Crest Insurance Group LLC has acquired John Creps Insurance Agency LLC in Flagstaff, Ariz.
The Creps Agency is a full-service property/casualty agency also offering life and disability insurance in addition to annuities. Crest has Arizona offices in Tucson, Scottsdale, Flagstaff, Sierra Vista, as well as in San Diego, Calif., and in Denver and Ft. Collins, Colo.
Was this article valuable?
Here are more articles you may enjoy.
From This Issue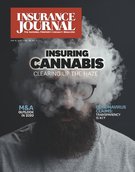 The Cannabis Issue; Markets: Cyber & Security, Entertainment