East
World Insurance Associates, Danaher-Skewes & Associates, Fairways Insurance
World Insurance Associates LLC has acquired Danaher-Skewes & Associates Inc. of Manassas, Va., on Nov. 1, 2020.
Established in 1963, Danaher-Skewes is an independent insurance agency, serving residents and businesses in Alexandria, Va., Manassas, Va., Fredericksburg, Va., and surrounding areas.
In a separate transaction, WIA acquired Fairways Insurance Inc. of Cinnaminson, N.J., on November 1, 2020.
Fairways is a full-service insurance agency serving clients throughout New Jersey, Pennsylvania and Delaware.
WIA is headquartered in Tinton Falls, N.J., and is a full-service insurance brokerage providing asset and lifestyle protection with risk management, insurance and benefit consulting services for individuals and businesses. Since its founding in 2012, WIA has completed 81 acquisitions and serves its customers from 72 offices in 15 states and Washington, D.C.
Hudson Insurance Group, Allegheny Group
Specialty insurer Hudson Insurance Group has agreed to acquire the Allegheny Group Inc. and its subsidiaries from its private shareholders.
Hudson, by acquiring Pennsylvania-based AGI, will own Allegheny Surety Co., a Pennsylvania insurance company, and Allegheny Surety Agency, the affiliated managing agency. Allegheny Surety serves independent agents in the mid-Atlantic region.
Pending the approval of the Pennsylvania Insurance Department and other regulatory approvals, the acquisition is expected to close within the next 60 days.
AGI's management team and key employees will join Hudson and continue to operate out of Pittsburgh and Philadelphia offices, reporting to Andrew Dickson, senior vice president and head of Hudson Surety.
Paul Read, chairman and CEO of AGI, said joining with Hudson will allow AGI to expand its reach beyond Pennsylvania as well as better serve its existing clients.
Headquartered in New York City with offices throughout the U.S. and in Vancouver, Canada, Hudson underwrites specialty primary and excess insurance on both an admitted and non-admitted basis. Hudson Insurance Group is the U.S. insurance division of Odyssey Group Holdings, which is owned by Fairfax Financial Holdings.
AGI serves as an insurance holding company, with its headquarters in Pittsburgh. Allegheny Surety Co. and Allegheny Surety Agency are wholly-owned subsidiaries of AGI.
Arthur J. Gallagher & Co., Warner Benefits
Arthur J. Gallagher & Co. has acquired Wayne, Penn.-based JP Warner Associates Inc., doing business as Warner Benefits.
Founded in 1997, JP Warner Associates is a traditional employee benefits consultant with offices in Wayne and Lehigh Valley, Penn. The team offers group benefit plan and human resource consulting services, as well as individual coverages, primarily to clients across Philadelphia suburbs and the Lehigh Valley region.
Jonathan P. Warner and his team in Wayne will continue to operate from their current locations under the direction of Tom Belmont Jr., head of Gallagher's Atlantic region employee benefit consulting and brokerage operations.
Arthur J. Gallagher & Co., a global insurance brokerage, risk management and consulting services firm, is headquartered in Rolling Meadows, Ill. The company has operations in 49 countries and offers client-service capabilities in more than 150 countries around the world through a network of correspondent brokers and consultants.
---
Midwest
Oswald Cos., RCM&D, Unison Risk Advisors
Oswald Companies, based in Cleveland, Ohio, and RCM&D, headquartered in Towson, Md., have agreed to strategically merge and launch Unison Risk Advisors.
Both firms will maintain independent brands, operations and management, while merging under the umbrella of Unison Risk Advisors, doing business as The JBO Holding Co., to expand service capabilities and specialty practice areas.
Oswald Companies, founded in 1893, is independent and employee owned. Independent and privately held RCM&D was founded in 1885.
With the merger, Unison Risk Advisors will be 100% employee owned and will rank among the 30 largest brokerage firms. It will feature a combined workforce of more than 650 employee owners in 12 office locations throughout the Mid-Atlantic and Midwest.
Oswald and RCM&D serve clients in the core service areas of employee benefits and health insurance, risk management, commercial property/casualty insurance, personal and life insurance and retirement plan services.
Robert J. Klonk is chairman and CEO of the Oswald Companies. Bob Cawley is president and CEO of RCM&D. Both are active leaders of Assurex Global, a partnership of insurance agents and brokers, and the Council of Insurance Agents and Brokers.
Alera Group, Todd Associates
Alera Group, an employee benefits, property/casualty, retirement services and wealth management firm based in Deerfield, Ill., has acquired Todd Associates Inc., headquartered in Beachwood, Ohio.
Todd Associates, founded in 1939 and operated by Ned Hyland since 1978, also has an office in Port St. Lucie, Fla. The firm provides property/casualty, professional and management liability and employee benefits products and services, with specific expertise in financial institutions, public entities, construction, manufacturing and real estate.
The Todd Associates team will continue serving clients in their existing roles.
---
South Central
DOXA, Marine Underwriters of America
DOXA Insurance Holdings LLC has acquired Conroe, Texas-based Marine Underwriters of America, a niche agency serving the marine industry with specialized insurance policies for ocean marine, inland marine and related property for commercial and recreational marine customers.
Marine Underwriters of America will continue its operations under the leadership of President Mike Hartley and his staff from the company's home in Conroe. The company will retain the Marine Underwriters of America name.
DOXA Insurance Holdings, a holding company that acquires specialty niche-focused insurance distribution companies such as managing general agencies, wholesale brokers, and program administrators, is headquartered in Fort Wayne, Ind.
MarshBerry served as financial advisor to MUA on this transaction.
Hull & Company, South & Western
Hull & Company LLC, a subsidiary of Brown & Brown Inc., has acquired substantially all the assets of Addison, Texas-based South & Western Inc. and all issued and outstanding shares of its affiliate, S&W Premium Finance Company Inc.
With roots dating back to 1974, South & Western is a managing general agency for retail insurance agents placing insurance for businesses and individuals primarily in Texas, Arkansas, Louisiana, Mississippi, Oklahoma and Tennessee.
The firm specializes in personal lines, farm and ranch/agribusiness, commercial transportation, and specialty commercial property/casualty insurance products. South & Western also offers insurance premium financing through S&W Premium Finance Company.
Following the transaction, the South & Western team will continue doing business under the leadership of JJ Horan from their Addison, Texas, and Memphis, Tenn., locations as a new stand-alone operation within Brown & Brown's Wholesale Brokerage Segment.
Arthur J. Gallagher, PIATX
Arthur J. Gallagher & Co. has acquired San Antonio-based employee benefits broker PIATX LLC.
Founded in 2009, PIATX is an employee benefits broker and consultant focused on delivering responsive and innovative coverages and services to businesses across Texas. The team will add to Gallagher's existing benefits capabilities in San Antonio and expand its footprint in the Texas small group benefits space.
Edward King and his associates will relocate to Gallagher's existing San Antonio office, led by Walter Sprang, under the direction of Robby White, head of Gallagher's South Central region employee benefits consulting and brokerage operations.
Arthur J. Gallagher & Co., a global insurance brokerage, risk management and consulting services firm, is headquartered in Rolling Meadows, Ill. The company has operations in 49 countries and offers client-service capabilities in more than 150 countries around the world through a network of correspondent brokers and consultants.
---
Southeast
Oakbridge Insurance Agency
Four retail insurance brokers – Founders Insurance, Hutchinson Traylor Insurance, McGinty-Gordon & Associates, and Waites & Foshee – have signed definitive agreements to combine to form Oakbridge Insurance Agency LLC, a new insurance brokerage firm serving clients across Georgia and the Southeast U.S.
As part of the transaction, Corsair Capital LLC, a private equity firm focused on business and financial services, has made a strategic investment in Oakbridge.
Robert C. Smith, a veteran insurance executive with experience holding senior leadership roles at firms including Hamilton Dorsey Alston in Atlanta, MHBT in Dallas, and Reagan Consulting, will become CEO of the newly created agency.
Oakbridge plans to grow organically through investments in new talent, client-focused infrastructure and through strategic acquisitions. Oakbridge sees future expansion opportunities in the Southeast through the strategic and geographic growth of each firm's specialty practices, as well as by attracting similarly cultured firms committed to broadening their businesses and capabilities.
Oakbridge's approximately 175 employees will work across 15 existing office locations throughout the state of Georgia. Each firm will maintain its current trade names and branding and will operate under the umbrella brand of Oakbridge Insurance Agency LLC upon the close of the transaction.
Hutchinson Traylor, based in LaGrange, Ga., is a regional provider of risk management, insurance services, and employee benefits services to clients throughout the Southeast, operating from seven offices throughout the state of Georgia.
Established in 1969, Waites & Foshee Insurance Group serves the state of Georgia with eight offices throughout the state.
McGinty-Gordon & Associates specializes in property and casualty coverages for families and businesses with a specialty in hard-to-place properties that have coastal exposures.
Founders Insurance is headquartered in Woodstock, Ga., and serves clients throughout Georgia and the southeast.
Marsh, Berry & Company, Inc. acted as financial advisor to the four agencies in the transaction and Maynard, Cooper & Gale, P.C. acted as legal advisor. Dowling Hales acted as financial advisor to Corsair Capital and Simpson Thacher & Bartlett LLP and Chapman & Cutler LLP acted as legal advisor.
Founded in 1981, MarshBerry serves the insurance brokerage industry, including insurance agents and brokers, specialty distributors, private equity firms, banks and credit unions and insurance carriers, through industry-specific services that include: merger and acquisition advisory, debt and equity capital raising, organic growth consulting, intellectual capital and connect-peer exchange network.
The Hilb Group, Plan Benefit Services
The Hilb Group, LLC has acquired South Carolina-based Plan Benefit Services Inc. The transaction became effective on Dec. 1, 2020.
Plan Benefit Services Inc. is an employee benefits consulting, management and brokerage firm independently owned and operated since 1986. As a part of the transaction, Branford Armstrong and the PBSI associates will join THG's Southeast operations and continue to work out of their existing location in West Columbia, S.C.
The Hilb Group is a property and casualty and employee benefits insurance brokerage and advisory firm headquartered in Richmond, Va. THG is a portfolio company of The Carlyle Group, a global investment firm. The company has more than 100 offices in 20 states.
BKS-Partners, Tanner, Ballew & Maloof
Baldwin Krystyn Sherman Partners LLC, the middle-market indirect subsidiary of BRP Group, has entered into an agreement to acquire substantially all assets of Tanner, Ballew & Maloof Inc., an Atlanta, Ga.-based provider of commercial property/casualty insurance to middle market companies and individuals.
The partnership, BRP Group's nomenclature for a strategic acquisition, is expected to significantly bolster BRP Group's presence in the Atlanta market.
TBM specializes in commercial insurance and has a 28-year history. TBM's industry specialization is in the multi-family real estate industry, while also providing insurance and risk expertise to the broader middle market, including the technology, real estate, hospitality, private equity, manufacturing and distribution industries.
According to John Valentine, chief partnership officer of BRP Group, the acquisition of TBM boosts its P&C and risk capabilities, particularly in multi-family, and gives it an opportunity to provide complementary employee benefit and professional risk management solutions to the Atlanta market.
Reagan Consulting Inc. and its wholly-owned subsidiary, Reagan Securities, Inc. acted as financial advisor to TBM in the transaction.
BRP Group Inc. is an independent insurance distribution firm delivering tailored insurance and risk management products.
Constellation Affiliated Partners, Coastal Insurance Underwriters, Cybercom
Constellation Affiliated Partners has acquired Florida-based MGU Coastal Insurance Underwriters and Cybercom.
Coastal Insurance Underwriters, founded by President and CEO Charles Bushong in 2007, is an insurance program administrator providing products to the community association marketplace. Coastal underwrites property, general liability, crime, directors and officers, golf and country club, equipment breakdown, workers' compensation, inland marine, umbrella, small business and private flood insurance products. Coastal currently underwrites insurance in Florida, California, Alabama, Texas, Georgia, Kentucky, and Tennessee.
Coastal, based in Ponte Vedra Beach, Fla., currently insurers 8,000 homeowners and condominium associations.
Cybercom currently provides technology development services to Coastal and third-party clients throughout the country. Coastal acquired the assets of Cybercom on January 2, 2020.
According to Bushong, being part of the Constellation portfolio of companies will help it continue to grow and diversify its programs, as well as expand its footprint throughout the U.S.
Through the acquisition of Coastal and Cybercom, Constellation will continue to expand its product offerings to the condominium association and homeowner's association marketplace. Bill Goldstein, CEO of Constellation, said the new business classes complement its existing programs and will provide increased product access to clients.
Additionally, Constellation will utilize the web-based platform designed by the team at Coastal subsidiary company Cybercom.
The tool quotes, underwrites, binds and issues insurance policies to agents in real-time, Bushong said.
Constellation Affiliated Partners is a New York-based insurance consolidator platform that specializes in acquiring MGA, program administrator and wholesale companies in the U.S. and Canada.
Constellation is backed by RedBird Capital Partners, a private investment firm focused on building high-growth companies with flexible, long-term capital.
---
West
Sompo, W. Brown & Associates
Sompo International Holdings Ltd. has acquired W. Brown & Associates Insurance Services in Irvine, Calif.
Brown has been a managing general underwriter for Sompo International since 2016.
The W. Brown operations will remain intact, leveraging the MGU's management and underwriting expertise, distribution platform and service capabilities. W. Brown will become a wholly owned subsidiary of Sompo International.
Sompo International is a Bermuda-based specialty provider of property/casualty insurance and reinsurance.
Brown provides general aviation insurance products and services for both airborne and ground based exposures.
Was this article valuable?
Here are more articles you may enjoy.
From This Issue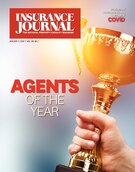 IJ's Agents of the Year; 2021 Agents & Brokers Meetings / Conventions Directory; Market: Employment Practices Liability