National
Insurity, Instec
Property/casualty insurance software firm Insurity has completed its acquisition of Instec.
Instec is a cloud software maker for mid-size property/casualty carriers, managing general agencies and specialty insurers.
Instec's products help firms migrate, launch or expand complex commercial offerings from project initiation to first quote in just weeks.
As a part of Insurity, Instec policy administration customers will be able to access Insurity's cloud-based billing, claims, data, and analytics products.
---
East
Stateline Insurance & Financial Services, Thompson Insurance Group
Stateline Insurance & Financial Services of East Providence, Rhode Island has joined Thompson Insurance Group.
Stateline staff will continue to work at the Thompson offices, and the agency will retain its name and contact information.
Stateline has served the insurance needs of the East Bay community for 40 years.
Thompson Insurance Group, based in East Providence, Rhode Island, is an insurance, real estate and investment company.
The group was formed in 2018 when Lezaola Thompson and Soucy Insurance merged and is owned by Kenneth Thomson, Jr. Thompson is president of the independent insurance agency.
Element Risk Management, Henderson Insurance
Element Risk Management has acquired Henderson Insurance of Harrisburg, Pennsylvania, and Our Legacy Insurance of Front Royal, Va.
The Henderson staff will continue to serve clients from its office in Harrisburg following the transaction.
Clients transitioning from Our Legacy Insurance will be welcomed at Element Risk's Front Royal office.
Element Risk Management is an independent insurance agency based out of West Chester, Pennsylvania. It provides personal, commercial and specialty insurance, as well as risk management solutions.
Risk Strategies, Specialty Insurance Solutions
Risk Strategies, a Boston, Mass.-based national specialty insurance brokerage and risk management firm, has acquired Specialty Insurance Solutions.
SIS offers specialty products and services primarily focused on student health insurance programs, sport accident insurance and student travel insurance.
SIS also offers a variety of specialty support services, such as setting up for billing and coding as a provider, contracting with network carriers as a preferred provider organization and establishing a student help desk.
The Hilb Group, Compass Planners
The Hilb Group LLC has acquired Rhode Island-based Compass Planners.
CP is based in West Greenwich, Rhode Island and is a specialized Medicare Advantage business led by Jim Soucy. Soucy and his three colleagues will be joining the offices in Cranston, Rhode Island.
Soucy will lead the Medicare Practice for all Hilb offices and will run THG Indianapolis-based Medicare wholesale operation.
THG is a property/casualty and employee benefits insurance brokerage and advisory firm headquartered in Richmond, Virginia.
---
Midwest
Charles Taylor Adjusting, Syndicate Claim Services
London-based Charles Taylor Adjusting, a provider of insurance services, claims solutions and technology platforms to the global insurance market, acquired Syndicate Claim Services Inc., an adjusting and claims services business, based in Indianapolis, Ind.
Syndicate provides insurance clients with loss adjusting, claims and catastrophe services throughout the U.S.
Syndicate provides claims services and appraisal, umpire, dispute resolution, and litigation support services.
FRISS, Terrene Labs
FRISS, a Netherlands-based provider of
fraud, risk and compliance products and services for property/casualty insurance carriers, acquired Terrene Labs, headquartered in Mason, Ohio.
Terrene products will join the FRISS product suite as Underwriting Insights. It will be available immediately as a standalone product and will soon integrate with the end-to-end solutions already offered by FRISS.
Abry Partners, High Street Insurance Partners
Abry Partners, a Boston-based private equity firm, has acquired High Street Insurance Partners, an insurance brokerage, located in Traverse City, Mich.
Abry is acquiring HSIP from Huron Capital, a Detroit-based lower middle-market private equity platform.
HSIP management and agency partners will maintain large stakes in the company and Huron will maintain a minority interest in HSIP.
High Street Insurance Partners provides business insurance and risk management, employee benefits and human capital management, financial and retirement services, and personal insurance products and services.
HSIP has offices based in Colorado, Connecticut, Iowa, Maryland, Michigan, New York, Oregon and Pennsylvania.
Ardonagh Global Partners, AccuRisk Solutions
London-based broker the Ardonagh Group has launched Ardonagh Global Partners, a unit focused on international mergers and acquisitions.
AGP acquired the U.S. healthcare and benefits managing general underwriter, AccuRisk, in a joint venture with the Amynta Group.
Based in Chicago, AccuRisk specializes in medical stop loss, occupational accident and supplemental health products for small and mid-sized businesses.
AccuRisk also has expanded into the captive and ancillary service lines as these markets have significant U.S. growth opportunities.
J.M. Wilson, Transcom General Agency
J.M. Wilson, a managing general agency headquartered in Portage, Mich., with eight offices in the U.S., has acquired Transcom General Agency, based in Madison, Wis.
Transcom provides transportation and property/casualty insurance to independent insurance agents in Wisconsin, Illinois and Indiana.
As part of the acquisition, Michael Knutson and his staff will join the J.M. Wilson team.
Hub International, Cooper & Allison
Chicago-based global insurance brokerage Hub International Ltd. has acquired the assets of Cooper & Allison Insurance Agency LLC and Russel J. Kobel LLC.
Headquartered in Burr Ridge, Ill., Copper & Allison is an independent insurance agency providing commercial insurance.
Russel Kobel, managing partner, and the Cooper & Allison team will join Hub Midwest West.
---
South Central
The Hilb Group, Clarus Benefits Group
The Hilb Group LLC has acquired Houston, Texas-based Clarus Benefits Group LLC.
As part of the transaction, Cary Goss and his team will join the Hilb Central Region.
CBG is an employee benefits and human resources consulting firm. THG is a property/casualty and employee benefits insurance brokerage and advisory firm headquartered in Richmond, Va.
Insurvia, La Familia Agency
Insurvia has acquired La Familia Agency LLC, an independent insurance agency based in Dallas, Texas.
La Familia Agency specializes in providing automotive and related insurance products and services to the Hispanic community.
Insurvia is an insurance services holding company.
First United, Unity Insurance Partners
Unity Insurance Partners is now the name of the insurance division at Plano, Texas-based financial services firm, First United.
First United's insurance division originated from three different insurance companies that have been combined over several years.
All agents and the division's contact information will remain the same, as will all customer information, products and the billing process.
Unity Insurance Partners is a wholly owned subsidiary of First United.
---
Southeast
The Liberty Company Insurance Brokers, Darr Schackow
The Liberty Company Insurance Brokers has partnered with Gainesville, Fla-based Darr Schackow Insurance.
DSI Managing Partners John Darr and Ray Schackow will join Liberty's leadership team bringing more than 28 years of experience and relationships from across the region.
The Liberty Company Insurance Brokers is a privately held insurance broker. Both Liberty and DSI were named a "Best Place to Work" by the Insurance Journal in 2020.
---
West
Amwins, Equisure
Specialty broker Amwins Group has agreed to acquire Equisure Inc., a Colorado-based specialist in insurance programs for horse and dog owners, trainers and organizations.
Equisure provides professional liability, general liability, and directors and officers liability for equine and canine clubs, associations and organizations.
North Carolina-based Amwins underwrites more than $1.7 billion in annual premium through its underwriting division.
Alera, Adamson & McGoldrick Insurance
Alera Group, a financial services and risk management company based in Deerfield, Ill., has acquired Adamson & McGoldrick Insurance Solutions.
Headquartered in Placentia, Calif., Adamson & McGoldrick Insurance Solutions offers customized risk management and business insurance expertise for clients across a wide range of industries.
The Adamson & McGoldrick Insurance Solutions team will continue serving clients in their existing roles.
Was this article valuable?
Here are more articles you may enjoy.
From This Issue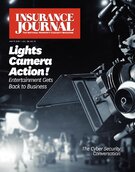 The Entertainment Issue; Markets: Cyber & Security