Douglas G. Hotchkiss, owner of the Dallas, Texas-based Hotchkiss Insurance Agency, hadn't thought much about building "green" or environmentally-friendly structures. But he now says, "it's a bigger deal than I thought. … I guess I've been asleep at the wheel not thinking about it, but (this) phone call has gotten my interest."
Hotchkiss founded his insurance agency more than 28 years ago and specializes in serving the building industry and related trades, including insurance products and services for subcontractors and commercial businesses. With six locations throughout Texas and over 100 employees, HIA is no stranger to commercial building trends. Despite Hotchkiss' high level of experience in the building industry, he had yet to grab hold of the "green" building craze. After some further investigation, Hotchkiss learned that today more than 50 percent of builders are building green. "If more than 50 percent of the builders are building green, I need to know that," he said. "This affects my commercial builders and residential builders," he added.
The National Association of Home Builders (NAHB) says inquiries into green practices are up more than 250 percent from last year. Commercial green building and development projects will increase 30 percent over the next five years, according to estimates by the National Association of Industrial and Office Properties. The organization also reports that more than half of the world's 500 largest corporations issuing sustainability reports in 2005 say that they want to build and occupy real estate that reflects their values , which includes green building practices.
According to "Developing Green: Strategies for Success," a book published by the NAIOP, the market for green buildings for public agencies is among the biggest green markets in the United States, and it is growing rapidly. The combined office, public safety and recreation segments exceed $43 billion per year, much of it in smaller buildings amenable to green building approaches
A recent survey by McGraw-Hill Construction projected the near-term market growth in green construction for the following building sectors: education, 65 percent; government, 62 percent; institutional, 54 percent; office, 58 percent; health care, 46 percent; residential, 32 percent; hospitality, 22 percent; and retail, 20 percent.
Owners and developers of commercial and institutional properties in North America are advancing green development through state-of-the-art tools, design techniques, advanced green products and creative use of financial and regulatory incentives.
Much like Dallas agent Hotchkiss, the property insurance industry is starting to take notice of this revolution in building and how it might affect property losses, safety and risk management, with some predicting a series of new products tied to green building.
Evan Mills, Ph.D., of the Lawrence Berkley National Laboratory in Berkley, Calif., has written extensively about the insurance benefits of energy-efficiency and renewable energy options and their potential for risk management and loss reduction. He says energy efficient systems can reduce insurance losses in commercial property, as well as boiler and machinery, builder's risk, business interruption, completed operations liability, comprehensive general liability, contractors liability, environmental liability, product liability, professional liability, service interruption, workers' compensation, health/life insurance, and homeowners insurance.
"The green building movement has really taken off, primarily due to the combined and complementary impacts of the U.S. Environmental Protection Agency and U.S. Department of Energy's Energy Star program, which provides recognition for high-energy-efficiency buildings, and the U.S. Green Building Council's LEED (Leadership in Energy and Environmental Design) program," Mills said. "Many thousands of buildings have participated in these programs, and the growth rate is significant."
Insurance appeal
The rise in commercial green developments indicates a need for change in how the insurance industry covers green properties, says one major insurer.
Fireman's Fund Insurance Co. released new product endorsements in October specifically for certified green building replacement and green upgrade coverages that address some of the unique risks that accompany green building practices. The carrier believes it is the only insurance company to offer such coverage for sustainable commercial buildings.
Rich Torres, an independent agent at Woodruff-Sawyer in San Francisco, Calif., has had an interest in green building design for some time, but when he began researching the availability of insurance products targeting the market he came up empty-handed.
"My goal was to find a carrier that provided a 'green' program and if I couldn't, develop one and partner with a carrier that was willing to support it," Torres said. The projections for green building growth over the next couple of years suggests that there will be a definite need in the insurance market for those choosing to build green, Torres added. "Global warming, power outages and fuel supply shortages are all very real issues facing our society. More owners/developers are deciding to address the situation by implementing sustainable designs into their buildings."
Fireman's Fund offers three different products for green commercial buildings that have been approved in most states.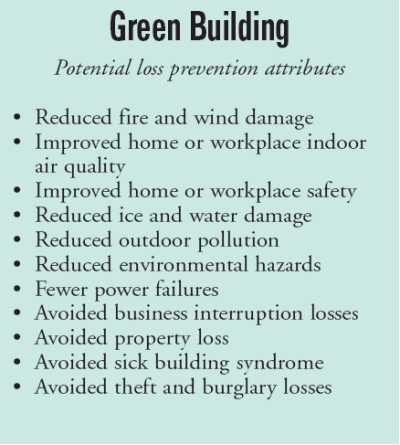 The first product offers a policy discount on commercial properties due to lower risk factors for buildings certified green by the U.S. Green Building Council's (USGBC) LEED program or the Green Building Initiative's (GBI) Green Globes program.
The second product is for buildings that are not yet green, but will be rebuilt with green alternatives following a property loss.
The third product is a building commissioning form. Following a loss, the commissioning product covers the cost to hire a professional engineer to look at the newly installed green systems to make sure that they are being installed properly and that they will operate more energy efficiently.
The coverage offers commercial property owners and managers the opportunity to rebuild with green alternatives such as: non-toxic, low-odor paints and carpeting; Energy Star-rated electrical equipment; interior lighting systems that meet LEED or Green Globe requirements; water efficient interior plumbing; Energy Star-qualified roof and insulation materials; and commissioning, engineering inspection of systems such as HVAC (heating, ventilation and air conditioning).
Torres believes that Fireman's Fund has differentiated itself by being the first to the market with such a product. "I believe they will see success and that will ultimately bring other players to the game," he said. "That will, of course, drive competition which will ultimately benefit who we represent, the owner/developer."
Torres says Woodruff-Sawyer already has construction clients with expertise in building "green" and the firm is seeing greater interest on green building design from its real estate clients.
Even though few special green insurance products are available, agents are beginning to take notice of the trend in construction.
David Price, executive vice president and chief underwriting officer for Burns & Wilcox, said while he hasn't written coverage for many green buildings, he did write a green building fairly recently.
"It was for a habitat/environmental society and they wanted to show how it could be done," Price said. "The building had no heating system because it didn't need one," he said, despite the fact it is located in Minnesota. The building was also equipped with a grass roof, or vegetative roof. "It doesn't matter if it rains or if the wind blows … to that extent it's a wind resistant building and to some extent a fire resistant building with low hazard occupants so it got a very good rate," he said. "If the features of a green building contribute to making a better risk then obviously it will get a better rate."
High performance design
Hotchkiss says that green buildings, due to their high-performance design, do pose a different kind of risk than typical commercial buildings. But he added there are numerous elements that make a building green, including job site recycling, tree protection, water and electricity efficiency, orientation of the building to the sun, minimizing window exposure of east and west, radiant barrier or light color roofs, and even engineered materials such as lumber that have been re-manufactured to improve the strength and quality.
"We see some very significant differences; that's why we are very willing to offer a rate to green buildings," said Steve Bushnell, product director at Fireman's Fund. Green buildings are designed with state of the art specifications for electric systems, heating and A/C systems, and plumbing systems, he said. Plus, they go through a commissioning process where a professional engineer makes absolutely sure the systems have been installed to manufacturers' expectations, he added. "That gives us a lot more confidence that these systems are going to perform, not only more energy efficiently for the insured, but more safely for us," Bushnell said. "Most of our losses for commercial property insurance come from electric fires, heating and A/C fires, and plumbing leaks. So we feel that if we have a system where these three things have been specifically engineered to be high performance systems the building is going to be a better insurance risk."
"There will be both downsides and upsides, but in my view, the upsides will dominate," Berkley Lab's Mills said. A downside to green initiatives might be inadvertent problems such as moisture developing in a property when energy-efficient products are implemented by unqualified practitioners. But Mills says "there are many prospective insurance benefits, ranging from property loss reduction thanks to the improved fire-resistance of multi-pane windows, to avoided business interruptions thanks to off-grid, on-site renewable power supplies, to avoided sick-building syndrome problems thanks to low-emissions materials."
According to Mills, green building owners don't necessarily have more trouble finding insurance than owners of standard buildings, but the risk-reducing attributes are not currently recognized in the pricing or other terms and conditions. "This is what has started to change," he said. "There are also opportunities for new products, such as energy savings insurance (performance guaranties)," he said. "I also think that, thanks to the improved indoor air quality of green buildings, some insurers will conclude that these risks will no longer need to be excluded."
Hotchkiss added that improved indoor air quality in green buildings is an important attribute, and could eventually have a positive effect on a company's workers' compensation.
"When I think about the indoor air quality I think on a commercial side it could improve your workers' comp for disease control, particularly when you get into the flu pandemic," he said.
Mills believes the insurance industry could see a raft of new product offerings coming from green initiatives. "In fact, there are already some examples in other segments, such as Travelers' 10 percent discounts for drivers of hybrid cars," he said.
Hotchkiss also thinks green building design could resolve some long-time safety concerns that haunt traditional construction.
"When I think about the freeze sensors," another green building element for water efficiency, "that would lead you to the slip and fall (coverage) in a commercial building," he said. "It's definitely going to reduce slip and fall."
Builders of residences and commercial properties are also utilizing "hot water on demand" systems for energy efficiency. Hotchkiss says such systems would keep a boiler out of a building. "So it's going to affect the risk and danger of having a central boiler in a facility," he said.
Additional green elements might include lower toxic materials and carbon monoxide detection. "So I'd see bodily injury potential there in a commercial building," he said. "Also, with advance framing techniques your builder's risk could be potentially lower."
But Hotchkiss cautioned that while they show promise, these new features do not come cheaply and that could cut into their popularity. "[I]f you are not careful you move the construction cost out of the reach of the average buyer."
Torres isn't as worried about the cost. He says there's a misconception that building green is cost prohibitive for many owners and developers. "There are compelling ROI models that indicate building green has significant financial advantages," he said.
Fortified green
Green building may be a buzzword in the environmental conservation industry, but fortified building is the new buzzword in the insurance industry.
The Institute for Business & Home Safety (IBHS), a Florida-based nonprofit association developed the Fortified…for safer living program which specifies construction, design and landscaping guidelines to increase a new home's resistance to natural disaster from the ground up. The program has captured the attention of the insurance industry, particularly after the heavy storm season in 2005 along the nation's Gulf Coast.
Hotchkiss said that while green buildings do deserve a rate credit from the quality construction-perspective, the bigger gain will come with fortified design.
Under the Fortified program, homes are built to add more protection to windows and doors, provide better connections between the roof, walls and foundation, and the roof is thicker, stronger, and designed to stay drier. While the Fortified program currently only applies to residential construction, Chuck Vance, IHBS's Fortified program manager, says a plan for commercial buildings is in the near future.
"As we move forward with the residential program, which is now capturing quite a bit of attention and expansion, I think will move more quickly into the commercial side and within the next year or so will have a program," Vance said.
Vance, who has been an active participant in round table discussions on green building initiatives with the NAHB, as well as other groups, says combining green building practices with the Fortified program is a natural fit.
"Green building has become sort of a buzzword with the NAHB for a couple of reasons," Vance explained. "No. 1 is because we obviously have a concern related to renewable sources and should be taking better care of our environment. No. 2, it's become obvious that any type of construction needs to be durable and sustainable in order to protect the environment." Vance said that in the past, it was understood that green building was frame construction, or wood construction, but that's changed based on what's happened with recent hurricane activity and new construction standards along the Gulf Coast.
"A lot of what the green building program is about has to do with design," Vance said. "So it's a natural fit to bring these programs together."
Kevin Lessner, vice president of loss control for the Property Casualty Insurers Association of America, says that while there is evidence of the impact of stronger building codes and their ability to mitigate losses, it hasn't always been that way and the data is not perfect. "But most insurance companies, particularly after 2005 believe that if you build to a stronger code you can have less losses."
However, he's not convinced that green building and fortified building are truly compatible.
"Green buildings are predominantly intended to protect the environment and save resources," he said. "So while an insurance company many have an interest in environmental issues, the business interest of minimizing losses is a little more stretched."
While PCI is not hearing much about green building from its members today, that doesn't mean they won't be talking about it tomorrow. "Who would have ever thought credit scoring 20 years ago would be as important as it is?"
Was this article valuable?
Here are more articles you may enjoy.
From This Issue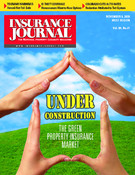 UNDER Construction: The Green Property Insurance Market