Agency errors and omissions (E&O) coverage is likely the most important insurance policy an agency purchases. As customer demands rise to an all-time high, having the right E&O coverage and ensuring best practices are followed to prevent E&O claims is more important than ever. Today agencies must be diligent about best practices at every level of the organization to protect against E&O claims, experts say.
Errors and omissions best practices at the agency level have never been more important than today, according to Rex Hickling, president of Premier Group Insurance, in Denver, Colo.
"Consumer demands have never been greater for immediate gratification across so many product lines, and especially in insurance, with billions of dollars of advertising implying it's all about price and the product is all the same," says Hickling, whose agency is an Insurance Journal Top 100 independent agency.
Yet when it comes to insurance, products are not always the same and coverage gaps may occur when customers switch carriers. That can be risky when it comes to an agency's E&O.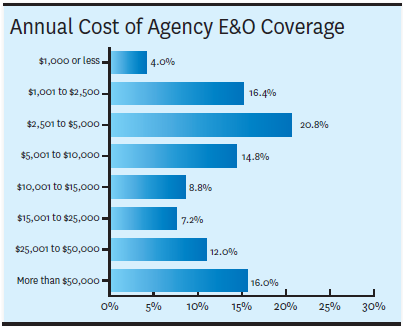 "Everyone likes to save money at the point of sale but when a loss occurs there sometimes can be a 'whom do I choke' reaction and 'why didn't you tell me I could have had that coverage for only pennies on the dollar above what I am already paying,'" Hickling said. If the coverage is not there at the time of claim, agents are at risk.
Customer loyalty isn't what it used to be and isn't getting any stronger. Last year more than $6 billion in advertising was pumped into the marketplace to encourage consumers to shop and switch their auto insurance providers, according to J.D. Power. Over the past year alone, the rate of switching among auto insurance shoppers has increased to 35% from 31%, helping to drive down overall insurance customer retention by two percentage points to 88%.
Also, today' agents are being asked more often to shop accounts because insurance rates are rising.
Agencies have a duty to ensure that customers are getting the same insurance product when switching carriers, says Angela Schroder, president of Houston-based U.S. E&O Brokers, a national retail insurance brokerage firm that focuses on errors and omissions insurance for insurance agents and brokers.
"Sometimes they might move a customer to get a better price, but they need to be aware of changing policy forms, especially changing from admitted to non-admitted markets," she said. "They need to be aware of the surplus lines laws in various states and they need to be aware of what that insured needs to sign and how they're going to be placing the business."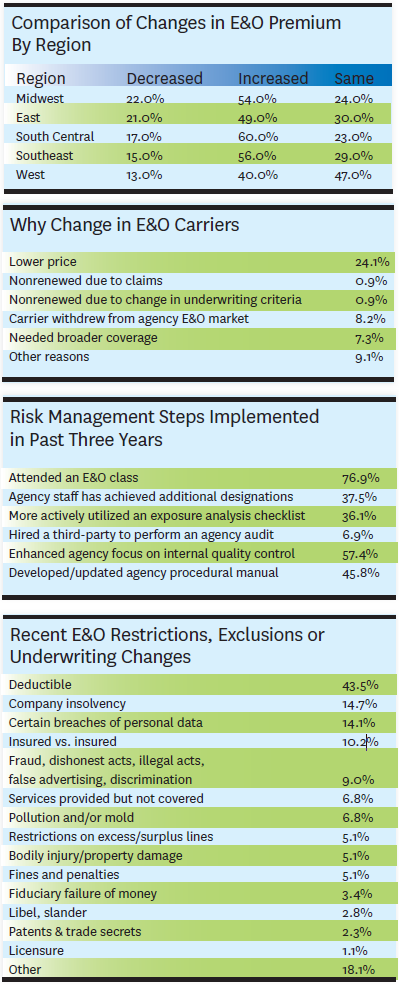 Mark R. Angelucci, resident senior vice president and E&O segment leader for Utica National Insurance Group, says agents seem to be accessing markets through wholesalers more frequently, which means they need to communicate the terms and conditions. "Excess and surplus lines policies often contain unique restrictions or conditions," he said. "The retail agent needs to be clear on them."
Reduction of coverage notices are critical. "Because sometimes they're reducing limits for premium savings so they may be choosing lesser coverage," Schroder said.
Agencies can protect themselves and their clients by using coverage checklists as well as signed reduction of coverage forms. "That's going to help them the most in the long-run," Schroder added.
Angelucci agrees with that advice. "Obtain client sign-off on all coverages offered that are not purchased and check carefully on information provided to carriers on submissions – signed applications are an important control for this loss exposure," he told Insurance Journal.
Sign-offs are especially important in catastrophe-prone areas, according Gordy Bunch, president and CEO of TWFG Insurance based in The Woodlands, Texas, near Houston.
"For agency operators in cat prone areas, documenting conversations, documenting disclosures on things that may be excluded or not covered" is crucial, he said. "If you're dealing with anybody in a flood prone area – and everybody is capable of flooding – getting disclosures and signatures where customers acknowledge that they were offered flood and they chose not to purchase, that's a practice that we like to instill in our agents."
When it comes to commercial lines, documenting coverage declinations on loss of use for a business is also critical. "Make sure you're offering those coverages if they're available to that class of business and get customers to acknowledge that they were offered additional coverages, but they chose not to purchase," Bunch said.
When a major catastrophe occurs, some customers might claim they were never offered coverage.
"They might say, 'I wanted the coverage, but the agent didn't sell it to me.' The agent needs to have that documentation to protect their agency," Bunch warns.
Angelucci isn't aware of any particularly new agency E&O claims trends despite two years with significant natural catastrophe losses, but a traditional trend has continued: carriers holding their agents accountable for accurately representing risks to them.
"We have seen several claims where the carrier will pay the policyholder's claim, then sue the agent for incorrect information about the risk," he said.
Cyber is one area where accurate representation of coverage is critical.
"Agents should be diligent about offering cyber coverage and obtaining written declination of coverage if the insured does not elect to purchase it," Angelucci advised. "It is important for agents to be clear if the cyber coverage provides online fraud coverage or check any crime-bond coverages to verify if coverage is provided under those forms."

An agency should not expect a carrier to come to the rescue. According to Bunch, carrier relationships with agencies are unique and while one carrier may be more willing than another to help the agency in an error situation, overall an agency can't count on that happening. "For the most part it's the agent's responsibility and that's what the E&O coverage is there for," he said. "Carriers are not going to be absorbing losses that they otherwise wouldn't incur just because they have a relationship with an agency. I'm not going to say they never do that, but it's not a common practice that they want to do and repeat.
"It's part of their duty as insurance carriers to make sure that they're going after subrogation if there is subrogation to be had," Bunch said. "That's why it's critical for agents and producers to document, document, document."
What to Buy and Why?
Just as the agency getting customers the proper coverage is important, so is the agency buying the right E&O coverage.
"In selling a regulated product line, such as insurance, the party that is licensed is held to a higher degree of accountability," Hickling said. "Agency owners know all too well that the E&O market is hardening, deductibles are rising, and sometimes there are baseless cases where defense must still be provided that can affect one's eligibility and pricing."
Proactive best practices not only help to prevent E&O claims but can simultaneously provide a better and more consultative customer experience, Hickling added. The result is coverage and protection that better meets the needs of the client.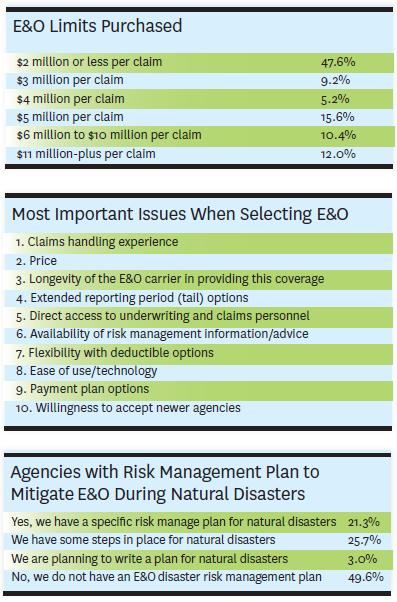 Insurance Journal's Academy of Insurance Director Patrick Wraight says finding the right E&O coverage at the right price is personal.
"My best advice of what to look for when buying E&O coverage is to find the best possible coverage for a price that you're comfortable paying from a carrier that you can trust," Wraight said. "Trusting carriers includes their financial stability, how long they have written E&O, and what their claims process is like." These are the problems that all consumers of insurance, including agents, seek to solve when buying insurance.
"Obviously, an agency should review their terms, conditions, limits, and deductibles before renewal to make sure that they are getting the coverage that they need at a reasonable price," he added.
Jim Stoddard, senior vice president at Top 100 independent agency Haylor, Freyer & Coon based in Syracuse, N.Y., is responsible for purchasing all insurance programs for this firm. He recommends to other agency owners that they do for themselves exactly what they do for their clients.
"We take and consider the same advice that we give to our clients; discuss limits of coverage to purchase," he said. "We often will ask the question or answer the question, how much should I buy by saying, 'You should buy as much as you can afford that allows you to sleep well at night.'"
If thinking of changing an E&O carrier, think about what market conditions dictate first, he says. "Then you've got to be all in and you need to do your homework and review all those terms, conditions, coverages, and have a thorough conversation with whoever it is that you're working with to minimize the risk as much as you can." Stoddard says: "Because at the end of the day, when things go bad, and they do sometimes go bad, knowing that you've got the proper amounts of E&O coverage to handle whatever that disaster is" makes all the difference.
Agency E&O is an agent's disaster plan, he says.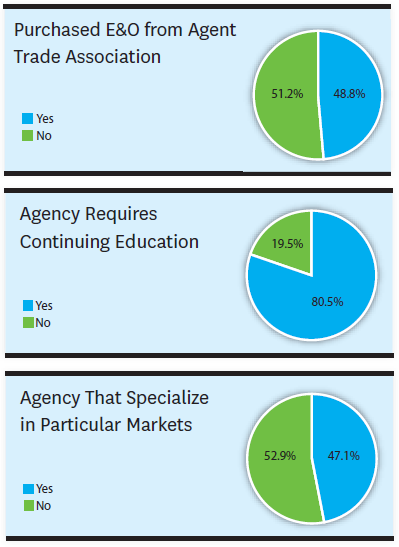 Agencies should also review their E&O policies when they are considering acquiring other agencies, considering a merger, or want to open other office locations, Wraight said. "It would seem to be good risk management if they review the E&O policies of any agencies that they might acquire or merge with," he added.
Agents should make sure that their limits are appropriate and that their deductibles make sense, Wraight said.
"My best advice is to be a coverage expert," Wraight said. "Know the policies that you work with. Be able to explain potential coverage gaps and be able to make recommendations about filling coverage gaps."
Overall, U.S. E&O Brokers' Schroder describes today's agency E&O marketplace as "very fair."
When asked to shop agency E&O coverage, she reminds clients of the risks. "It is my job to shop their E&O coverage, right?" she said. "But there's no time that I want to ever change people's carriers," she said. "We don't like to change coverage from one carrier to another unless like the coverage is enhanced in some way – higher limits or broader coverage – or there's something you can't get with your current carrier," she said. Maybe that carrier won't cover a certain line of business, for example.
Schroder always recommends to her clients that it's best to stay as consistent as possible. "With your limit, your deductible and your carrier," she said. "Your carrier is there for the long haul, and you should be with them."
Was this article valuable?
Here are more articles you may enjoy.
From This Issue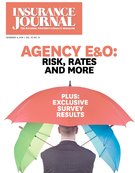 Top Commercial Lines Agencies; Agency E&O Survey; Premium Finance Directory; Market: Trucking