Harassment Drones
"The worst thing that can happen is you get mamas separated from their babies, and that's one of my biggest concerns."
— Republican Rep. Scott Chew wants to send people to jail for harassing farm animals with drones. The Utah lawmaker said he introduced the bill because farmers incur significant costs and hardships when livestock are injured.
Conspiracy Theory
"Every town, every city and every county has been affected by this dumping of drugs in West Virginia. And they've all incurred substantial costs that they would not have otherwise incurred but for the dumping of these drugs and the conspiracies by these doctors and these pharmacies to allow it to occur."
— Charleston, W.Va., Attorney Rusty Webb said in a response to a lawsuit filed by the town of Kermit against out-of-state drug distributors. The town is suing five prescription drug wholesalers over the costs of dealing with the opioid crisis currently affecting its community and state.
Construction Death Epidemic
"The epidemic of construction worker deaths in New York City is in part a result of OSHA being grossly understaffed and overworked. We're not going to end this crisis so long as the left hand and the right hand aren't working together."
— Council Member Rory Lancman, chair of the Committee on Courts and Legal Services comments on the New York City Council's Construction Safety Act, a legislation package of 18 bills calling for increased worksite safety and training programs in New York City.
Wind, then Fire
"Seems every time the wind gets up good, there's a fire somewhere."
— Oklahoma wheat farmer Jim Freudenberger, who is keeping closer watch over his 750-acre property in Coyle, a town in north-central Oklahoma where several wildfires have broken out. Oklahoma has been placed under a national fire advisory as much of the state struggles with unrelenting drought and tinder-dry vegetation. Dozens of wildfires have scorched thousands of acres in the past two months.
Was this article valuable?
Here are more articles you may enjoy.
From This Issue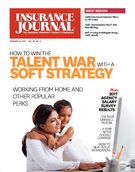 Agency Salary Survey Results; On the Water: Marinas & Boats; Agribusiness / Farm & Ranch