Reassurance
"I want to reassure every single Texan impacted by Harvey that we will never let up until your homes and businesses are restored, until your communities are fully protected from future potential storm damage."
— Gov. Greg Abbott announced during a luncheon in Rockport that Hurricane Harvey-damaged Texas communities will be able to apply for more than $1 billion in federal funds that can be used on projects to help prevent or lessen damage from future storms.
Failed System
"We're here in front of you today at the Legislature because the regulatory system has failed … Their mission (at the Kansas Corporation Commission) calls for them to regulate the oil and gas industry to protect the public safety. They're not doing it."
— Cindy Hoedel, of Matfield Green, Kansas, at a House committee hearing in support of a bill that aimed to prevent earthquakes caused by oil and gas production wastewater disposal methods by limiting the amount of water that could be injected into wells. Hoedel said there were no earthquakes five years ago in the area where she lives but now they occur on a regular basis. The committee rejected the bill.
Clandestine Pot Shops
"We do have ongoing challenges with unauthorized establishments, unlawful and illegal clandestine operations, that are out operating either under the guise of medical marijuana or operating as unlawful and illegal cannabis sales (shops) throughout the city."
— Los Angeles Deputy Chief John Sherman says the city has issued licenses to nearly 100 marijuana retailers, but police estimate there are at least two times that number operating illegally in the city and undercutting those who are playing by the rules.
Drone Collisions
"The likelihood that a drone will collide with an airline aircraft is increasing."
— Airlines for America, a trade group representing large carriers, and the Air Line Pilots Association and the National Air Traffic Controllers Association said in a letter to U.S. lawmakers. A helicopter's crash landing in South Carolina is believed to have been caused by a civilian drone, which would make it the first drone-related crash of an aircraft in the United States.
Opioid's Impact
"One in four has been directly impacted by opioids, but we all can play a role in saving lives."
— National Safety Council (NSC) President and CEO Deborah A.P. Hersman said analysis of federal data showed that 1,086 Pennsylvanians died accidentally in 2016 — an increase of 15 percent over 2015. Opioid overdose led to 78 percent of those deaths. The NSC made Pittsburgh its first stop on a nationwide tour of its exhibit: Prescribed to Death: A Memorial to the Victims of the Opioid Crisis.
From This Issue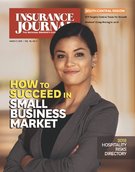 How to Succeed in Small Business Market; Directory: Hospitality Risks; Markets: Homeowners & Auto, Business Interruption