Medical Marijuana
"Prosecuted or not, the fact remains that Twin Rivers would be forced to commit a federal crime if it complied with the directive of the Workers' Compensation Board."
— Maine Supreme Court Associate Justice Jeffrey L. Hjelm stated in an opinion in which the Maine Supreme Court ruled employers are not required to reimburse employees for medical marijuana under the Maine workers' compensation system because federal law preempts state law. The case came about after an injured employee of Twin Rivers Paper Company LLC petitioned the state Workers' Compensation Board to require Twin Rivers to pay for his medical marijuana. Although prescribed medical marijuana use in Maine is permitted by the Maine Medical Use of Marijuana Act (MMUMA), Twin Rivers opposed the petition, arguing it would violate the federal Controlled Substances Act (CSA), which bars the prescribed use of medical marijuana.
Driverless Trucks
"Motorists headed out to visit Grand Island from Lincoln aren't going to be sharing the road with driverless trucks anytime soon … there's still a lot to be worked out."
— Nebraska Trucking Association President Kent Grisham says despite a new law allowing autonomous vehicles to operate on Nebraska public roads as long as the vehicle includes safety features, follows state road rules and is properly insured, it will take "several years, if not decades" before fully automated trucks are cruising down public roads.
Changing Face
"Our real goal is to change the face of cannabis."
— Jax Finkel, executive director of Texas NORML, the state's chapter of the National Organization for the Reform of Marijuana Laws, says in its push for the legal use of medical marijuana in the state, the group is concentrating on West Texas and other rural areas. It wants to change public perception of a typical marijuana user from that of a '70s hippie to one of a hardworking, active person who needs medical pot to stay that way.
Coffee and Cancer
"OEHHA has determined that exposures to Proposition 65-listed chemicals in coffee that are produced as part of and inherent in the processes of roasting coffee beans and brewing coffee pose no significant risk of cancer."
— The California Office of Environmental Health Hazard Assessment has proposed to exempt coffee from a state regulation that requires businesses to warn consumers about carcinogens in their products.
They Deserve Better
"I believe victims of the Pulse shooting deserve better. We deserved better. We deserved to be rescued sooner by law enforcement."
— Keinon Carter, a victim of the June 12, 2016, Orlando nightclub shooting, who has filed a lawsuit against the city and its police officers. More than 35 victims have joined the lawsuit, which claims the city and police didn't do enough to try to stop the shooter and that the Constitutional rights of the shooting victims were violated.
Was this article valuable?
Here are more articles you may enjoy.
From This Issue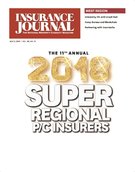 Salute to Super Regionals; Markets: Flood & Earthquake, Errors & Omissions; Annual Ad Reader Study