While the destroyed Twin Towers of the World Trade Center in New York City and surrounding buildings were occupied by a variety of businesses, the insurance industry took a major blow in the Sept. 11 disaster as a number of p/c insurance companies, reinsurance companies and brokerages had offices there.
The following is a look at some of the businesses in the WTC and in the immediate vicinity; their location in the buildings; and the fate of their employees:
• Allstate Insurance Co.
(South Tower – Floor 24)
According to Laura Margolis, Allstate spokeswoman, the company had two agent offices in the South Tower.
"Two of our employees made it out safely, while the other two had not yet reported for work," Margolis said.
The company declared a claims catastrophe, meaning claims handling would be expedited.
• Aon Corp.
(South Tower – Floors 92, 99, 100)
Chicago-based Aon Corp., the world's No. 2 insurance broker, had about 1,100 staff in the World Trade Center. As of Sept. 14, Chairman and CEO Patrick Ryan that 200 employees remained unaccounted for. "It grieves me to report at this time, despite all of our efforts, we have been unable to obtain information from any sources concerning the safety of approximately 200 Aon employees," Ryan said in a statement.
Besides the 1,100 workers in the World Trade Center, about 250 other employees were either traveling to New York or working in downtown Manhattan when the attack took place last week.
• Fireman's Fund Insurance Co.
(South Tower – Floors 47, 48)
Company Public Relations Director John Kozero said that all 190 employees of the company who worked in the complex on the 47th and 48th floors were safe. "When the North Tower was hit, [employees] began evacuating out of the South Tower," Kozero said. "They made it safely to the 30th floor when the second plane hit their building. We've spoken with everyone and they all made it out safely."
• Kemper Insurance Cos.
(North Tower – Floors 35, 36)
According to Linda Kingman, Kemper's vice president corporate communications, "The information we have is that our employees were safely evacuated." Kemper reportedly had 225 employees in its WTC offices.
• MMC/Guy Carpenter/Mercer/Seabury & Smith
(North Tower – Floors 93-100; South Tower – Floors 47-54, 49)
Based on information as of Sept. 16, there were some 1,900 MMC personnel who worked in or were visiting the towers of the WTC. According to MMC Chairman Jeff Greenberg, "We are saddened beyond words that 313 people from MMC are missing and that two others are confirmed dead, including one who was aboard a hijacked aircraft.
"To the best of our knowledge, all of our colleagues from 2 World Trade Center, who were located on floors 48 through 54, were safely
evacuated.
"…Our colleagues who are missing were all in 1 World Trade Center, where Marsh and Guy Carpenter occupied floors 93 through 100—where the first aircraft hit the building."
• RLI Corp.
(North Tower – Floor 80)
All RLI employees were reported to have made it safely out of the building.
• SCOR U.S. Corporation/Scor Reinsurance/Partner Reinsurance/General Security Insurance and Indemnity Co.
(South Tower – Floors 23, 24)
Scor reportedly had 120 employees in the building and all information suggests everyone made it out safely.
From This Issue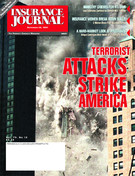 2001 Program Directory, Vol. I