February brought good news and bad news in the saga of Chicago-based Near North National Group owner Michael Segal.
The good news: He found a buyer for his brokerage operations.
The bad news: Federal prosecutors filed documents they said showed how Segal used Near North's reserve funds to pay off powerful Chicago politicians. In response Segal's lawyers had his fraud and racketeering trial postponed so they can prepare a defense against additional charges they believe will soon be filed.
In early February, Segal signed a letter of intent to sell Near North Insurance Brokerage to Chicago-based Frontenac Co., a private equity investment firm. Terms of the deal were not disclosed. The brokerage pulled in $107.1 million in 2001 and is rumored to have sold for between $120 and $200 million.
Frontenac Managing Partner Rodney L. Goldstein said he began conversations with Near North President William Bartholomay, whom he has known for 15 years, in late 2002.
Goldstein said "we had several meetings with Mr. Segal" about the deal, adding that Segal's legal troubles had no impact on discussions.
"We're purchasing assets of Near North Insurance Brokerage's business," Goldstein said. "We'll be working closely with the operating team for that business. I would not comment on any other issue that involves Mr. Segal."
Frontenac had been pursuing opportunities for investment in the insurance brokerage industry since last summer, when it teamed up with former Aon Corp. executives Richard A. Riley and Robert Goss, Goldstein said. Riley and Goss will become chief executive officer and chief financial officer, respectively, at closing.
"Our strategy is very simple," Goldstein said. "We partner with proven operating executives. And Near North is precisely the kind of business that we and our executive partners would want to own. There's a full operating team in place, terrific operating leadership and it has terrific growth potential."
Later in the month, federal prosecutors pursuing charges of insurance fraud, mail fraud and racketeering against Segal, accused of embezzling $20 million from Near North, unveiled filings in court they alleged showed how Segal diverted hundreds of thousands of dollars from Near North's reserves to Chicago-area politicians.
Segal ran a deficit of $5 to $7 million in Near North's legally required reserve fund, according to documents filed by prosecutors in federal court.
Prosecutors alleged Segal gave $139,500 as a "loan/gift" to Chicago Alderman Burton Natarus in 1996, among others. Another $50,000 went to Dan Ross Associates, a consulting firm operated by former Illinois U.S. Rep. Dan Rostenkowski, who served 17 months in prison for mail fraud.
Near North's competitors have long complained that the firm's tight connections with Chicago's powerful politicians hampered their ability to fairly bid for the city's insurance business.
The month ended with a whimper as the federal judge hearing Segal's case postponed his trial, which was to have started in April, until June 16. Segal's lawyers said they were worried about the possibility of additional charges and they needed more time to prepare an adequate defense.
Segal's lawyer also asked to be informed within 30 days of any new charges. The U.S. Attorneys Office would not comment on the case. Segal has pleaded innocent to the charges.
From This Issue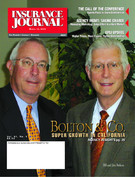 EPLI Issue/E&O/D&O