Sales generated by property/casualty customer service representatives are the least risky, most profitable of all agency activities. They generate the easiest of all new commissions and help to keep rivals out of the picture, including Internet and direct mail marketers. These actions also tighten the bond between the CSR and insureds, increasing sales potential and retention ratios. So with all of these benefits, and more, why don't all agencies cross-sell on a regular basis? It's usually because CSR selling requires more than the desire; it requires a planned, concerted effort.
In the Jan. 3, 2005 issue, this column focused on selling personal lines endorsements by direct mail; here the broader picture is explored. To paint that picture, an agency's management must first recognize and actively develop the top three CSR sales requirements: time, training and motivation.
Time considerations
Management cannot simply demand extra business from CSRs who are already overwhelmed by their daily non-sales activities. Agencies must be alert to the time constraints of their service staff and endeavor to make more hours available to them. This clock-stretching process begins by redefining and enforcing the producer and CSR relationship. It is often a CSR's number one time killer and it requires constant monitoring. Reps who routinely perform the paper and follow-up work that agents should rightfully be doing will never have adequate time to sell on their own.
Another problem is late-payer handholding. CSRs chew up time when they follow-up on direct bill late notices that are sent to their insureds. Clients learn to expect reminders and pay only once they are received. A CSR's time is better spent attracting additional business from clients who pay their bills on the first notice.
When CSRs are comfortable with the relative strengths and weaknesses of their offerings, they will know when to focus mainly on price, and when to tout service and coverage advantages.
More valuable CSR selling time is lost if reps perform claims, bookkeeping and supply-ordering functions, in addition to their client-centric duties. Non-insurance staffers are the best people to handle these minute-munching actions.
Of course on that rare occasion, CSRs also waste time on their own by talking to or e-mailing friends and family, and surfing the Web. This is an important issue for every agency. Ask all reps, producers, and other employees to voluntarily limit their non-work-related conversations and computer use and to help establish a fair governing policy. Then aggressively enforce the policy that everyone has agreed upon.
On the work side of computers, require reps to make maximum use of agency automation. This functionality dramatically enhances productivity. And in turn, it frees up time for reps to sell. So endeavor to educate CSRs, especially those who are the least comfortable on computers.
CSR selling time is a valuable commodity. It's important not to misuse it, after working so hard to create it. Managers with good intentions often do this by mandating a portion of a CSR's day or week for outgoing sales phone calls. Too often, this is tragically ineffective. The resulting calls are uncomfortable and unproductive, even when directed to insureds that the CSRs know well. That's because they are often resentful of this added duty and feel unqualified as sales initiators. A better approach is to ask them to upsell and cross-sell only to insureds when they call in for service or when they are preapproached through an organized marketing effort.
Sales training
Most CSR training is limited to licensing, mandated continuing ed, computer system usage, and the occasional company or association seminar. Certain carriers excel at working with CSRs, but this is the exception, not the rule. CSR sales skills are seldom, if ever, taught at the agency level. This lack of training limits their ability to recognize when and what to sell.
Managers can provide their reps with some of this information themselves. For instance, they can advise them that the single best time to cross-sell or upsell is when an insured calls in for routine service. Since the client is asking for help at this time, they are often responsive to discussing needed coverage enhancements. He or she can also teach reps how to spot "no-sale" agency accounts. Certain monoline accounts can't be sold the "missing" auto or home policy under any circumstances. These include youthful drivers and elderly parents living with their children. Each account's internal prospect value should be determined before going to the expense and effort of trying to cross-sell it. In contrast to this form of selling, increased limits and extra coverage endorsements can be sold to any agency policyholder, at any time.
CSRs must also resist relying on the form letter as their main sales device. Most reps are in the habit of using these common letters for almost all non-electronic communications. These writings are fine for service, but for marketing purposes they are relics. Today's pros must employ a variety of creative, individualized, and graphic-enhanced documents to generate viable interest in their upsell and cross-sell offers.
Management should also ask CSRs, and others in the agency, to develop lists of potential new insureds. Provide each person with a blank document at the start of each calendar quarter. Provide space for the names, addresses, and contact data of the people and businesses they believe make credible insurance prospects. Requesting leads this way keeps CSRs on the constant lookout for new business.
Motivation
Inspiring CSRs to sell is an art, not a science, so management is wise to leave any wily techniques at the door. Most reps are industry veterans, highly experienced at discerning the truth, after years of dealing with auto insurance applicants. Instead of rah-rah or manipulative meetings, conduct systematic hands-on encounters that share helpful information, provide creative marketing assistance, and establish realistic goals and rewards.
Start by asking reps to collect timely and accurate competitive intelligence about the agency's offerings and those of your main rivals. It's shocking how little some CSRs know about the true competitive strength of the premiums and coverages that they have at their disposal. Perhaps they once knew these imperatives, but their facts have since become outdated.
To remedy this, sit down for a short series of special meetings with all personal lines CSRs. At the first one, the manager writes down where he or she believes the agency is the most competitive. For example, consider which combinations of dwelling coverage limits, premium groups, forms, deductibles, etc. result in what is believed to be the agency's most competitively priced homeowners contract. Then have a CSR check these assumptions by running verifying quotes through the agency's rating software. Simultaneously have other reps collect quotes from rival insurers to benchmark advantages and weaknesses. At future meetings, familiarize reps with the latest "extras" that are included or available with each carrier's personal lines policy, such as loss of refrigeration, no deductible glass replacement, etc. When CSRs are comfortable with the relative strengths and weaknesses of their offerings, they will know when to focus mainly on price, and when to tout service and coverage advantages.
It is also advisable to set reasonable and specific production objectives for each CSR. However, these goals mean nothing unless the people to whom they're assigned accept the need for their existence, and commit to achieving them. Some CSRs erroneously believe that closing just enough new policies to offset last year's attrition is good enough. Illustrate the devastating financial impact of this common misconception by building a business case that demonstrates the urgency and importance of CSR sales activities. Getting them to accept this bottom-line analysis of why CSR-selling is needed is essential.
Reassure each CSR that the agency is prepared to help them meet their production commitments. Time, training, and marketing assistance will be made available on a continuous basis. If results are to be expected, this crucial and comforting promise has to be kept.
Conclusion
Today's agencies cannot survive simply by marching in place. They must move forward aggressively. Each rep, producer, and manager must do their part. Principals and producers are comfortable with selling while most CSRs are not. Agency executives cannot demand CSR-generated sales without first preparing them for and assisting them with the task.
Was this article valuable?
Here are more articles you may enjoy.
From This Issue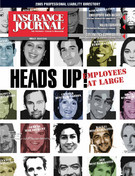 Professional Liability Directory