Extreme Weather Hits Europe:
Devastating wild fires in Portugal; torrential rains in Switzerland, Austria, Germany and Romania; drought in much of France. There seems to be no end to the list of extreme weather conditions that have hit Europe in the summer of 2005. No contrast is more vivid than the scenes of uncontrolled fires raging across almost the entire northern half of Portugal and the streets of Geneva, Bern and other Swiss cities inundated by a meter (three feet) of raging water. Le Temps, a Swiss daily, wrote: "Three days of incessant rain has caused huge damage in the center and the east of Switzerland." The country hasn't seen this sort of rainfall for almost 20 years. Six people have died as a direct result of the floods.
In Portugal, however, (and in Southern France and Spain) there's been no rain since June. More than 40 fires have burned out of control over the last month in 90° (C.36°) weather. They've left at least 15 dead and 140,000 hectares (346,000 acres) destroyed, mostly in central and northern Portugal. One of the largest fires threatened towns and villages around the historic city of Coimbra. The EU, Spain, France, Germany, Italy and the Netherlands have all sent specially equipped planes and helicopters to help fight the fires. The Portuguese government declared a national emergency and local authorities urged employers to release workers from their jobs to act as volunteer fire fighters.
Meanwhile in Romania at least 16 people have died in severe storms and flooding, and more than 1,400 have been forced to leave their homes across the country. The floods, the worst to hit the country in many years, have caused widespread damage to property and infrastructure. It's too early to assess the economic damages and insured losses occasioned by the catastrophes. But based on prior experience they will be substantial.
In 2002 Europe's biggest P/C insurer, Germany's Allianz, paid net total claims (after reinsurance) of around 550 million euros ($674 million) for the floods in Central Europe. According to figures from Munich Re, the drought and heat wave that hit Europe in 2003 killed more than 20,000 people, and caused over $13 billion in economic losses. The floods that hit Southern France that year resulted in $1.5 billion in economic losses and over $1 billion in insured losses. While some commentators have linked the extreme weather to climate change and global warming, most researchers have indicated that the factors involved are too complex to be attributed to one single cause.
Marsh Capital to Sell 1.85M Axis Shares:
Bermuda-based AXIS Capital Holdings Limited announced that Marsh & McLennan Risk Capital Holdings Ltd., a subsidiary of Marsh & McLennan Companies Inc., will sell 1.85 million Axis common shares in a block trade to Merrill Lynch. Marsh will retain another 1.85 million shares — around 1 percent of Axis' total capital. The shares are currently trading in the $30 range, making the deal worth around $55 million. Marsh was one of the initial investors in Axis, which was established after the Sept. 11 attacks. It's also the second major investor to sell a substantial stake in Axis. On Aug. 7, JPMorgan Partners a private equity affiliate of JP Morgan Chase & Co., and related entities, announced it would sell approximately 7.8 million shares. Marsh is also the third major investor to sell a substantial stake in a Bermuda start-up that eventually went public. Just after the Morgan announcement Texas Pacific and Thomas H. Lee Partners announced they were selling approximately 7.7 million ordinary shares in Endurance Specialty Holdings Ltd.
Straits of Malacca Remain a 'War Risk:'
The London insurance market's Joint War Committee (JWC) has rejected the shipping industry's complaints about its designation of the Straits of Malacca as a "war risk" area. The JWC included the 500-mile (800-km.) long sea lane, which connects the South China Sea and the Indian Ocean between Malaysia and the Indonesian Island of Sumatra, on its list of "war risk zones" in June. The strait is one of the most heavily traveled in the world with an estimated 50,000 ships going through it annually. The EIA estimates that on an average day more than 11 million barrels of oil are in transit through it.
At a meeting on Aug. 16, The International Chamber of Shipping (ICS) and Intertanko tried in vain to convince the JWC to change the decision. However, acting on the advice from its consultants, Aegis Defence Services Ltd., it refused to do so. Aegis' report noted that "the ports, places and coasts included on the list had been assessed by them to exceed an enhanced risk benchmark that they had established." While piracy in the straits and surrounding area has been an ongoing hazard for years, the more recent threats are from terrorist groups. Shipowners are concerned that the increased risk designation will result in higher premiums. However, a report from Reuters cited Ken Alston, MarshMac managing director, as indicating that any such increases would be minimal. Both sides agreed to keep the area under "close review." The JWC also gave a clear message that it was "incumbent on individual owners to negotiate appropriately with their underwriters."
Willis Gets Guangzhou License Back:
Willis Group Holdings announced that the China Insurance Regulatory Commission (CIRC) has lifted the license suspension of its Guangzhou branch office, and will now permit it to accept new business. Willis' bulletin indicated that the suspension was the result of a misunderstanding in which CIRC representatives "were mistakenly denied access to the office." The international broker also said it had been fined RMB 100,000 ($12,200) and "has put in place procedures to ensure that there will be no re-occurrence of the incident." Willis Pudong Insurance Brokers Co. Limited currently has 18 licensed branch offices and two service offices in China.
RMS Opens Bermuda Bureau:
Calif.-based Risk Management Solutions will open an office in Hamilton, Bermuda. RMS made the announcement at a market seminar on the island that focused on recent technical developments in catastrophe modeling relevant to the insurance and reinsurance industry. The company said it would be the "only catastrophe modeling firm with a local office." Companies that control over 95 percent of Bermuda's cat reinsurance capacity utilize RMS models. The consulting firm has named Chernell Campbell to lead its client service activities. She joins RMS from XL Re where she was a catastrophe reinsurance analyst. The new office is located in the Columbia House at 32 Reid Street, Hamilton, and will open for business in September.
From This Issue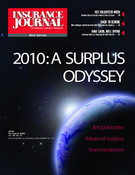 Surplus Odyssey