The lawyer took a crisp $50 bill in his hand and then crushed it into a ball. Despite it being all crumpled, the bill was still worth $50, he pointed out.
That was attorney Stephen Marcellino's way of suggesting that the insurance industry, which has been by rolled by New York Attorney General Eliot Spitzer, has also retained its value even if it is a bit misshapen.
Marcellino, a partner with Elser Moskowitz Eddelman & Dicker LLP thinks that dollars, crumpled or not, provide some perspective on how this insurance imbroglio stacks up against other Wall Street scandals. He moderated a New York City seminar, titled "The New Ethics of Insurance," hosted by the eastern chapter of the Professional Liability Underwriting Society.
Compared with other Wall Street scandals, the money involved in the insurance scandals seems like small change. New York forced Marsh to cough up $850 million. Chicago-based Aon Corporation agreed to provide $190 million for restitution while Willis North America Inc. paid $50 million. Hilb Rogal & Hobbs Company reached a $30 million agreement with Connecticut Attorney General Richard Blumenthal and is paying a $250,000 fine as well.
However, the 1980's savings and loan crisis cost taxpayers a whopping $124 billion while the thrift industry itself paid $29 billion. Insider trader Michael Milken served two years in a federal prison and paid a total of $1.1 billion in fines and restitution for securities fraud.
Attorney Marvin Pickholz, who was involved in the Martha Stewart trial, believes the Spitzer-driven probes don't come close to the other major financial services scandals. Pickholz said he'd actually be embarrassed as a government lawyer to fine an institution "only" $150 million or even $1.5 billion and also to have not caught any senior executives.
Stephen Sills, chief executive officer of Darwin Professional Underwriter, dismissed as "insulting" any suggestion that the insurance industry's failings compare with scandals of other Wall Street sectors that often involved individuals lining their own pockets. He noted that those charged by Spitzer have been largely middle management, not senior level.
A lawyer with the New York State Insurance Department who has been involved in the investigations told the executives to stay tuned because the inquiries are not over. The ongoing finite reinsurance investigations would be bigger and reach higher, suggested Audrey Samers, deputy superintendent and general counsel.
"Finite re will have a big impact; their senior management is involved," she said. "There are failures at corporate board level."
Samers also pointed out that the Marsh $850 million settlement included no fines, only restitution for policyholders.
From This Issue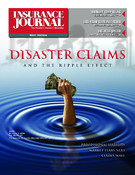 PLUS Conference Issue