People
Mullis Newby Hurst L.P., an Addison, Texas-based provider of construction insurance and surety bonds in Texas, promoted Jan Johnson to senior vice president and director of insurance. Johnson, a 26-year veteran of the insurance industry, has served as vice president of the Addison-based Mullis Newby Hurst since 2005.
In her new position, Johnson will be responsible for supervising the insurance department and managing relationships with both clients and insurance carriers.
Johnson, a Wylie resident, joined Mullis Newby Hurst as an account executive in 2002 and was promoted to vice president in 2005. Previously, she worked in similar positions for several international brokerage firms, as well as for an insurance company.
Vance Lee has joined the Dallas office of Fort Worth-based Higginbotham & Associates as a vice president in its Risk Management Department. Lee will complement the agency's loss control and claims customer services with risk reduction program development, safety training and compliance support.
Lee has broad loss control experience spanning 14 years working in Texas corporate, insurance carrier and broker environments. He has held positions at Decker Food Company and Liberty Mutual, where he also brokered commercial property/casualty insurance for predominantly middle market accounts. He most recently was vice president of loss control services at Lockton Companies of Dallas.
Lee is Certified Safety Professional (CSP) and an Associate in Risk Management (ARM) in 2007. He is also a Field Safety Representative in Texas, a Local Recording Agent and a Professional Member of the American Society of Safety Engineers (ASSE).
Higginbotham & Associates also appointed Curtis W. Page as managing director of its Austin office.
Page, who joined Higginbotham January 2005, is an accomplished commercial property casualty insurance broker with more than 25 years experience in the Central Texas market.
Higginbotham opened its Austin office in 2004. The agency has since been recognized by the Greater Austin Chamber of Commerce as "Small Business of the Year" in 2005 and 2007.
Page has broad insurance experience in property casualty, professional liability, health and disability coverage lines. He has concentrated experience in the health care, social service and not-for-profit industries.
Page earned designations as a Certified Insurance Counselor (CIC) in 1985 and a Certified Risk Manager (CRM) in 2001. He is an instructor for the Independent Insurance Agents of Texas (IIAT) Producer Training Program.
Louisiana Workers' Compensation Corporation (LWCC) promoted Paul D. Buffone to vice president of risk management services. He will oversee risk management services for LWCC, including claims, occupational medicine, operations and the special investigation unit.
Buffone, who joined LWCC in 1993, served as director of litigation services for the company from 2001 to 2006, when he was promoted to assistant vice president of risk management services.
Previously, he was LWCC's senior corporate counsel after practicing for several years in the areas of state workers' compensation and maritime law.
McQueary Henry Bowles Troy L.L.P. (MHBT), a privately owned insurance and risk management firm based in Dallas, promoted Scott F. Foree to vice president in the firm's marketing department. In this role, he will negotiate and place large commercial insurance programs.
A 31-year veteran of the insurance and risk management industry, Foree joined MHBT in 2000 as assistant vice president in the firm's marketing department. He has significant expertise and client experience in the retail industry, especially in retail jewelry. Prior to joining MHBT, Foree held marketing and account executive positions with Palmer & Cay, McDonald & Co., Frank B. Hall, and Bayly Martin & Fay.
HCC Insurance Holdings Inc. promoted Jackie S. Kellems to vice president of Enterprise Risk Management, the Houston-based company announced.
Kellems has worked in various capacities for HCC and subsidiary Houston Casualty Company since joining the company in 1994. She has more than 25 years' experience in the insurance industry.
Houston-based property casualty insurance wholesaler London American Risk Specialists Inc. has promoted Zane Carson and Jennie Triola to vice president positions.
Formerly director of marketing for London American, Carson has been with the company three years and will continue to lead the company efforts in public relations and to promote, launch and advertise insurance products and services for all London American offices.
Triola has been with London American 11 years in the motor truck cargo/transportation department, serving as manager of that unit for the last year. During her time in the department she added numerous products and enhanced company relationships.
Agency Specialty Product Network, a unit of Aon Corp., has named five new regional vice presidents:
Paul Granata will head the Southwest Region, which includes Arizona, New Mexico, Southern California, Southern Nevada and El Paso, Texas. Granata joins ASPN after 11 years at Great American Insurance Group.
Kim Wells will head the West Central Region, which includes Central and Northern California, Hawaii and Northern Nevada.
Connie Adams will head the Mid-Central Region, which covers Iowa, Kansas, Missouri, Nebraska and Oklahoma. Adams has spent over 30 years in the insurance and finance industries, working with the independent agency system in her current location as well as in Virginia and Washington, D.C.
Ken Chappell is the new vice president for the Mid-Atlantic Region that includes Delaware, Maryland, New Jersey, New York (excluding N.Y. City and Long Island), Northern Virginia, Pennsylvania and Washington, D.C.
Rob Romano will head the Northeast Region, which comprises Connecticut, Maine, Massachusetts, New Hampshire, Rhode Island, Vermont, New York City and Long Island.
Sandra Runnels, an account manager at Roach Howard Smith & Barton, has been appointed to the Fort Worth Commission for Women by the City of Fort Worth.
As a commission member, Runnels will work to support area women and children by researching top women shelters in the country, comparing the findings with those of SafeHaven, a local area shelter in need of restructuring, and submitting an improvement plan to the Fort Worth City Council recommending how funding should be allocated.
She will also participate in an initiative to educate area women on the importance of voting.
Runnels will represent District Six during her term on the commission, which is scheduled to expire in October 2008.
The Fort Worth Commission for Women was created by Ordinance No. 8911, which was adopted on Sept. 9, 1983, with the purpose of acting in an advisory capacity to the Fort Worth City Council and to study women's issues important to the community. The Commission has a membership of 19 citizens.
Runnels is an account manager at independent insurance brokerage firm Roach Howard Smith & Barton, where she plays an active role on both the Advisory Board and Social Committee.
She has both her CISR and ACSR designations.
The Progressive Corp. has named Larry Bloomenkranz as chief marketing officer.
Bloomenkranz joins Progressive from United Parcel Service, which he joined in 1989 as international advertising manager. He went on to become director of International Brand Communications before assuming the position of vice president of Brand Management, Advertising and Sponsorships.
In that role, he was responsible for global brand strategy, identity and advertising, as well as enterprise-wide sponsorships and events.
His position is effective April 28.
From This Issue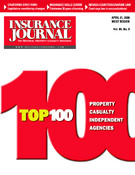 Top 100 Retail Agencies; Medical Professional Liability; Top Performing P/C Insurers: 1Q