Ironshore, Distinguished Programs
Bermuda-based specialty insurer Ironshore Inc. and New York-based program administrator Distinguished Programs Group LLC have formed a joint venture acquisition vehicle targeting the managing general underwriter and program manager segments of the insurance distribution business. IDP Holdings LLC, contemplates multiple acquisitions of small to mid-sized program managers as well as the development of start-up operations built around key underwriting teams, according to the firms. IDP Holdings is targeting acquisitions of companies with $5 to $25 million in premium, experienced management and solid underwriting results. Distinguished will provide strategic and financial management and Ironshore will provide insurance capacity to acquired companies. Financial terms will vary from acquisition to acquisition.
R-T Specialty, McAuley Woods
R-T Specialty, LLC, the wholesale brokerage unit of Ryan Specialty Group, LLC, has acquired McAuley Woods & Associates. Headquartered in Palm Beach, Florida, McAuley Woods is a wholesale insurance brokerage that also has offices in Charlottesville, Virginia and Nashville, Tennessee. These offices are part of the sale. Bob McAuley and Loti Woods, co-presidents and co-chief operating officers of McAuley Woods, will remain with the organization.
R-T Specialty is a new venture, part of Chicago-based Ryan Specialty Group, founded by former Aon founder and CEO Pat Ryan in December, 2009. R.T. Specialty is headed by Tim Turner, formerly president of CRC, a national wholesaler and subsidiary of BB&T.
Turner said the acquisition will "significantly strengthen" his firm's presence in the Southeast.
Guy Carpenter, Florida
Reinsurance specialist Guy Carpenter & Co., LLC, a part of the Marsh & McLennan Cos., has formed a dedicated Florida business unit. The new unit, based in Tampa, will address the complex needs of Florida-based companies and the Florida insurance and reinsurance marketplace.
The Florida unit will be led by Kevin Stokes, executive vice president, who will report to Chris McKeown, president and CEO of North America Broking Operations. Prior to his new role, Stokes, a 30-year veteran of the reinsurance industry, served as a member of the firm's Client Strategy Team. Previously, he led Guy Carpenter's Property Specialty Practice, served as the firm's New York branch manager and was a member of the company's Americas Board.
Brown & Brown, T.R. Jones
Brown & Brown of Florida has acquired insurance broker Beecher Carlson subsidiaries, Thomas R. Jones, Inc. and T.R. Jones & Co. of Broward, L.C., collectively doing business as T.R. Jones & Co.
T.R. Jones & Co. sells commercial and personal lines property as well as casualty and employee benefits products in Florida and reports total annual revenues of approximately $6.7 million.
Thomas R. "Tom" Jones, Alan Lund, and their staff will join Brown & Brown and continue to serve their clients from their Homestead, Key Largo, and Ocean Reef offices.
The agency's Winter Park operations, doing business as Kraft Insurance Agency, will combine with Brown & Brown of Florida's existing Maitland, Florida office, under the leadership of John Berner.
Bret D. Quigley, executive vice president and chief financial officer of Atlanta-based Beecher Carlson, said there was "no longer significant alignment between T.R. Jones and Kraft and the going forward strategic vision of Beecher Carlson."
Fairholme, AIG
Fairholme Capital Management LLC increased its stake in American International Group Inc. to 26.6 percent, deepening the fund's role in the insurer as it prepares to emerge from U.S. government support. Fairholme Manager Bruce Berkowitz already held a 24 percent stake in AIG, according to a regulatory filing. The incremental increase in Fairholme's AIG holdings is another step in Berkowitz's support of the insurer, as AIG tries to restore its financial stability. Fairholme, already AIG's largest private shareholder, said that it planned to invest about $1 billion in the initial public offering of AIA Group Ltd, AIG's Asian life insurance unit. Last month, as AIG unveiled its plan to accelerate the payback of U.S. government bailout money, Berkowitz disclosed that he had signed a confidentiality and standstill agreement with the insurer, which analysts interpreted as a sign that he was willing to put up additional capital for AIG. He has spent about $2 billion this year buying AIG common shares, preferred shares and bonds.
Aon
Aon Corp. says it will cut 1,500 to 1,800 jobs over the next three years after acquiring Hewitt Associates. The Chicago company says the cuts and other restructuring will be complete at the end of 2013. It expects to save $355 million per year, including $280 million per year by eliminating jobs. Aon closed its acquisition of Hewitt Associates, a human resources specialist, this month. The combined company had about 29,000 employees. The job cuts will trim 5 percent to 6 percent of that work force. The company says the plan will cost $325 million to implement.
Markel, Aspen/FirstComp
Specialty insurer Markel Corp. has completed the previously announced acquisition of Aspen Holdings, Inc., a privately held insurance group that provides workers compensation insurance and related services, principally to small businesses, in 31 states.
Aspen, which is headquartered in Omaha, Nebraska, operates primarily through FirstComp Insurance Co., a Nebraska-domiciled insurance company, and FirstComp Underwriters Group, Inc. and FirstComp Insurance Agency, Inc., which act as managing general agents. Aspen will continue to operate as a separate unit, with Luke Yeransian, Aspen's current chief executive officer, as president. The unit will report to Mike Crowley, Markel's president and co-chief operating officer, as part of Markel's specialty admitted segment.
From This Issue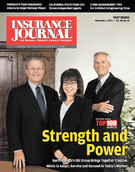 Focus on Professional Liability/PLUS; Habitational/Dwellings; Agents E&O Survey