IJ Video Highlights
---
---
The sweeping federal health care reform law enacted last year is having a major bottom line impact on insurance agents. New rules preventing insurers from including commissions in medical loss ratios means some agents are seeing their commissions fall by 50 percent or more, say Bob Rusbuldt and Charles Symington of the Independent Agents & Brokers of America. In Washington, lobbyists for agents are scrambling to reshape those rules, they say in this report from Insurance Journal's East Editor Kenneth St. Onge.
---
The first thing on an independent insurance agency owner's mind might not be public relations and communications, but Ann Basco says owners shouldn't overlook its importance. As director of corporate communications for Top 100 Agency Heffernan Insurance Brokers, Basco oversees everything written or designed that clients view, whether it's the company's Web site, brochures, seminars, advertising, or another form of PR. Based on her experiences, Basco shares the basics to boosting an agency's brand with Insurance Journal's West Editor Patricia-Anne Tom.
Podcast Highlights
---
---
In this interview with Claims Journal's Denise Johnson, Dori Sperko, "Workers' Comp" executive producer, describes the creation of a new television sitcom and the show's path to a produced TV pilot with a cast of veteran actors, including Morgan Fairchild, Robert Carradine and David Proval. Sperko is no ordinary executive producer; she lived and breathed workers' compensation claims, as the co-owner of NELCO, an employee leasing company, for several years prior to the show's development.
In a Reader's View
---
The Least Insured
---
When disaster strikes, insurance becomes the lifeline to rebuilding a devastated community. But for some homeowners struck by recent tornadoes in Mississippi, Alabama, Oklahoma and Missouri, insurance will not be an option for help after they chose to drop coverage due to tight budgets. Here's what a few readers on InsuranceJournal.com had to say about the article, "States Hit Hardest by Recent Tornadoes Among Least Insured"
Michael says:
My company has multiple on site CAT claims teams in both AL & MO. A friend of mine worked the AL site and told me of the 3,000 claims his site processed – those HOs with a storm related death… Not one had a life insurance policy with us. Very sad and unnecessary. Also many HOs had greatly reduced contents in an effort to save rate. That is both the client and agents fault. It won't happen but this industry needs to take the "low cost" type carriers to task. The perception of low cost is in reality a policy with greatly reduced coverage.
---
Agent says:
I think it has a lot to do with the times we are living in. The economy is in rough shape and people are trying to figure out a way to survive. Unfortunately, insurance is not a high priority to many people. They complain about the cost of coverage, but they are sure glad they have coverage when a storm or fire happens. These people let it go and they are paying for it with no home and no hope of recovery. I am amazed that many apartment dwellers do not carry renters insurance for their belongings. It is so inexpensive, but they take the risk and hope for the best.
Topics Agencies
Was this article valuable?
Here are more articles you may enjoy.
From This Issue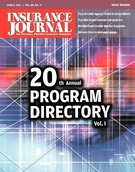 Program Directory Vol. I – The Agent's Favorite Program Placement Resource ,The Florida Issue